The Suicide Squad: 5 Questions We Have After James Gunn's DC Movie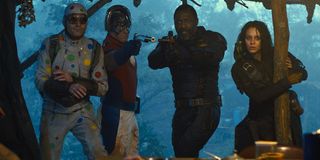 CinemaBlend participates in affiliate programs with various companies. We may earn a commission when you click on or make purchases via links.
Warning: spoilers for The Suicide Squad are about to hit the pavement. If you want to be spared the metaphorically gory details, head on out to another one of CinemaBlend's fine stories.
James Gunn's big and bold move into the DC Comics universe unfolded this past weekend, with The Suicide Squad leaving one hell of a body count and plenty of punchlines in its wake. Naturally, while Gunn's film is technically a standalone adventure in the still sort of freewheeling canon that is Warner Bros' comic apparatus, there's a bunch of questions that still hang in the air. So if you're curious about what the future may hold in store for Margot Robbie's Harley Quinn, Idris Elba's Bloodsport and John Cena's Peacemaker, among others, check out the questions we have that address those and other The Suicide Squad cast members in this post-credits world.
Could Bloodsport Actually Remain The Leader Of The Suicide Squad?
By the end of The Suicide Squad, Idris Elba's Bloodsport actually rises to the challenge of being a team leader and shows off quite the commanding presence. He even gets his surviving teammates to follow him into battle, even under the almost certain threat of being deleted by Amanda Waller (Viola Davis), care of an exploding head capsule. That sort of status can make friends, but it also paints a target on Bloodsport's back, which makes us wonder: would Bloodsport actually want to remain the leader of The Suicide Squad?
Surely, if he really wanted to, the man also known as Robert DuBois could just reunite with his daughter (Storm Reid) and live in peace for the rest of his days. But would he stay a hero, assume the mantle of the late Colonel Rick Flag (Joel Kinnaman) and lead whatever teams come next into battle? Or will he fall into his criminal ways, get caught again, and wind up back at Belle Reve?
Will Amanda Waller Ever Try To Settle The Score With Bloodsport?
Let's hope that for Bloodsport's own sake, he takes his redemption in The Suicide Squad seriously, because both of those paths could lead to another chance at untimely death. No matter which path leads him back to Task Force X, Amanda Waller has a really good reason to try and take Robert DuBois out. Our next big question is, would Ms. Waller even dare to try and take out Bloodsport?
Though he's protected by the information he smuggled from Corto Maltese, what's to say that Amanda Waller isn't already sussing out where DuBois has hidden his special trove of information? Come to think of it, Waller's not the only person with a grudge against Bloodsport, and The Suicide Squad showed us just how she might be able to gain the upperhand yet again in its post-credits reveal. So will Amanda Waller bide her time and let a handful of DC's finest criminals go, only to get busted again? Or will she send someone to finish the job once and for all?
Should We View The Suicide Squad As Part Of A Harley Quinn Anthology?
2016's Suicide Squad is a rare bird in that it spawned not one, but two loosely-connected sequels. You can thank the enduring popularity of Margot Robbie and her portrayal of Harley Quinn, which also saw fans raving once 2020's Birds of Prey was released into the wild. That poses a rather interesting scenario, as there can be a debate over whether or not The Suicide Squad should be seen as the second in its titular franchise. Or would we be better off thinking of this movie as the third installment in the continuing saga of one Harley Quinn?
Seeing as Margot Robbie is ready to continue playing her iconic DC role for some time, with The Suicide Squad proving why that's the best idea in the world, maybe we're looking at the series the wrong way. Clearly, Suicide Squad movies can bring back the team members we love, like Harley, but they can also fuel an anthology that plays towards her mythos. It's an approach that other characters could benefit from, especially when looking at two new fan favorites that came out of James Gunn's big reinvention.
We're Going To Get A Ratcatcher 2 Spinoff, Right?
If we're to look at The Suicide Squad as a standalone film that sets up characters rather than a continuity, then there's clearly potential for another breakout character to have their time in the spotlight. Daniela Melchior's Ratcatcher 2, along with her little rat buddy Sebastian, have become huge hits after debuting in The Suicide Squad. And as DC and Warner Bros are clearly ready to use characters from this portion of the DC multiverse to tell stories in other medium, Cleo Cazo should be on that list.
Fans are already calling for The Suicide Squad's rodent-wrangler extraordinaire to be given her own story, and in some instances, Warner Bros has been known to grant the wishes of fans. There's even multiple opportunities, from prequels to sequels and everything in-between, when it comes to telling Cleo's story. So with the fans signaling what they want, we're surely going to get a Ratcatcher 2 spin-off, right?
How Is The Peacemaker Series Going To Play After The Suicide Squad?
Fuck! It's the most obvious question people had after watching The Suicide Squad. Pre-opening, John Cena's patriotic dudebro was the obvious breakout hit, with his deadpan comedy chops laying wasted to fans' sense of humor in the marketing campaign that led up to opening weekend. However, after actually seeing what he does in The Suicide Squad, we have to wonder how the hell is that HBO Max series going to play?
If you've run through this entire feature and haven't been bothered by spoilers, this is a red alert moment, as Peacemaker's heel turn is one of the biggest surprises in The Suicide Squad. Or rather, it's how Christopher Smith outs himself as a would-be killer of innocent bystanders and former squad-mates, all in the name of protecting the U.S. government's secrets. Crossing into a darker plain than most may have expected, how the hell are we going to root for this guy to save the fucking world?
The Suicide Squad leaves a lot of questions in its wake, but these five are the most important and interesting to behold. Should you have read through this article without seeing the movie, code red spoilers and all, or simply want to see it again, you have two options on how to do so. You can either see The Suicide Squad in a theater near you or you can stream the film on HBO Max's ad-free plan until September 5. Should you not have access to that streaming service, check out the current subscription offer (opens in new tab) that will give you the chance to squad up and throw down! You'll need it for that Peacemaker series as well.
Senior Movies Contributor
CinemaBlend's James Bond (expert). Also versed in Large Scale Aggressors, time travel, and Guillermo del Toro. He fights for The User.
Your Daily Blend of Entertainment News
Thank you for signing up to CinemaBlend. You will receive a verification email shortly.
There was a problem. Please refresh the page and try again.