The Best Things About Working At Disneyland, According To Former Cast Member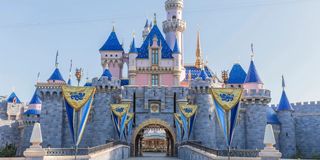 Who doesn't love Disneyland? It is the happiest place on earth, after all, and for those who love visiting, imagine getting to work there! Well, as a former cast member I've done it, and now I'm here to share some of the best things about working at Disneyland.
Post-undergrad, I was an attractions cast member at the Disneyland Resort in California as part of the Disney College Program. While there are some work perks that are unique to the college program, I will focus this on benefits I personally enjoyed and remember other cast members also enjoying.
Cast Members Get To Go To The Parks For Free
This is probably the most obvious cast member perk: free park admission (to all Disney parks, regardless of which you work at). Families spend thousands of dollars on Disney trips, some even spend years saving for a weekend vacation, so getting to cut out this cost is major.
Previous annual pass holders can also relate to this part, but there's something cool about going "for a walk in the park" or "to the park for dinner" because you live down the street. It should be noted, however, that contrary to popular belief, cast members cannot go play in the park whenever they feel like. There are specific days where cast members cannot enter the park without a scheduled shift.
No Map? No Problem!
When going to Disneyland virtually every day of your life, it's only a matter of time before you get the lay of the land. I'd never been to Disneyland as a guest prior to working there and found the size quite intimidating, but I didn't need a map after my 4th day. Knowing where everything is along with which areas of the park are busiest at certain times of day and times of the year makes returning as a guest so much easier.
This has made me the very best tour guide for Disney trips with friends and family. There are usually so many people in the parks that you have to be strategic with your days to maximize the number of attractions you get to experience as a guest and to avoid spending the entire day standing in line or searching for your group.
Cast Member Exclusive Experiences Are The Best
Management provides a number of events that are exclusive to cast members. This includes attraction specials like being the first to ride Haunted Mansion once it's changed over to Mansion Holiday and riding Space Mountain with the lights on. Non-attraction exclusives include a tour of Walt Disney's apartment and free lunch to celebrate Walt's birthday.
Since I worked in attractions at Splash Mountain, I also want to note that one of the coolest things was walking around inside the attraction. It's not something you do just for fun, it's for safety. Cast members must learn their way around the inside in case they need to evacuate the ride and/or escort a guest off, but it's a really cool experience, nonetheless.
Walking Around A Near-Empty Park Is Magical
My absolute favorite thing about working at Disneyland, hands down, was walking through Disneyland before it opened and after it closed. Many don't love the hours of opening and closing shifts, but I found it to be the most peaceful times to be in the park. There was something magical in the quiet and stillness of those hours that I will never forget.
Imagine standing on Main Street either completely alone or with a small handful of other people. It's quiet and peaceful. You watch the sunrise over the castle. The smells of popcorn and corn dogs are just starting to waft through the air. It feels like home.
Friendships Formed Over A Common Love Of Disney Can Last A Lifetime
We all have a Disney-obsessed friend, right? Well, when working at Disneyland I never had to ask if someone had seen a Disney movie. It wasn't a matter of "do you like this" but simply "which is your favorite?" No one made fun of me for crying the first time I saw Olaf in the parade or the thirty-seventh time I saw the fireworks display to Live the Magic because it was equally magical every time. Through all the early mornings and late nights together, I will forever cherish the wonderful, genuine people I met working at Disneyland.
To be fair, there are downsides to working at a theme park, as it is a customer service job, after all. But in my experience, the perks of working at Disneyland greatly outweighed the cons and I'd do it again in a heartbeat. Even if you've been a hundred times, there's always something new to explore from new food items to the Avengers Campus.
Obsessed with Hamilton and most things Disney. Gets too attached to TV show characters. Loves a good thriller, but will only tolerate so much blood.
Your Daily Blend of Entertainment News
Thank you for signing up to CinemaBlend. You will receive a verification email shortly.
There was a problem. Please refresh the page and try again.