Don't Breathe 2 Reviews Are Online, Here's What Critics Are Saying About The Horror Sequel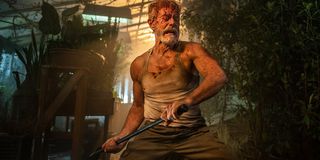 It's fitting that Friday the 13th is this week, as the follow up to 2016's Don't Breathe arrives on Friday, August 13. Stephen Lang returns as the blind Norman Nordstrom in Don't Breathe 2, set eight years after the original. In the sequel, Nordstrom lives with 11-year-old Phoenix, but after she is kidnapped, he must use his military training to save her. The horror thriller features Madelyn Grace as Phoenix, along with Brendan Sexton III, Bobby Schofield, Rocci Williams, Adam Young, and Christian Zagia. The movie was directed by Rodo Sayagues (in his directorial debut) and the screenplay was co-written by Sayagues and Fede Álvarez, who directed the first film.
As previously stated, Don't Breathe 2 will debut in theaters on Friday, August 13, and it looks absolutely brutal. Critics have started releasing their reviews of the action thriller, so let's take a look at what they're saying.
Starting with the CinemaBlend side as always, Eric Eisenberg was disappointed with Don't Breathe 2, rating it 1.5 out of 5 stars. While he thought the violence was satisfying, that's about the only thing he enjoyed, and argued that this sequel is a disaster. Eisenberg noted that the biggest problem in the horror thriller is that Lang's Nordstrom is a terrible protagonist. The filmmakers try to make viewers root for the blind man, but it's impossible to forget that he did some truly monstrous things in the original film. The attempt to make viewers sympathetic towards him was "gross," according to Eisenberg, and he said:
Benjamin Lee from The Guardian shared a lot of Eisenberg's sentiments about Don't Breathe 2, noting that it should instead be titled Don't Breathe 2: Don't Bother. For one, he argued that a sequel to the first film wasn't even necessary. And two, he noted that, after seeing what Nordstrom was capable of in the first installment (ahem, he's a murderer and a rapist), why should we care about what happens to him? The movie never gives us a real answer, according to Lee, and thus viewers really don't care about any of the characters. Lee said:
The portrayal of monster-turned-savior is something quite a few critics just couldn't get past, as evidenced above, and is again shared in Chris Evangelista's review for SlashFilm. While he thought it was commendable that the action horror flick at least tried something new (aka, make the slasher character into someone heroic) rather than recycle the same ideas from the first movie, he thought it "asks for too much sympathy for the devil." Evangelista thought Lang and Grace were at least quite good in their performances, but the problem is that they weren't given much to work with, saying:
While Aaron Neuwirth from We Live Entertainment thought there were some clever bits in the action movie, he also thought the attempt to turn The Blind Man into an anti-hero didn't work. He thought the filmmakers were eventually going to provide a justification for rooting for Nordstrom, but it never came, and he also thought the horror film wasn't even very scary. Neuwirth said:
Jude Dry from IndieWire actually had more of a positive opinion of Don't Breathe 2, in stark contrast to the previous critics listed. She thought the plot twists were clever, as well as the cinematography. She enjoyed many performances, specifically Stephen Lang's as The Blind Man. She thought the plot lacked real depth, though, and tried to hard to grasp for it, like in a certain scene towards the end, saying:
Well, it seems like most critics really disliked this movie. Will audiences feel a different way? We'll soon find out, when the horror thriller releases only in theaters on Friday, August 13.
In the meantime, you can plan your next movie-going experience with our 2021 new movie release guide.
Your Daily Blend of Entertainment News
Thank you for signing up to CinemaBlend. You will receive a verification email shortly.
There was a problem. Please refresh the page and try again.