What The Original Scream Cast Is Doing Now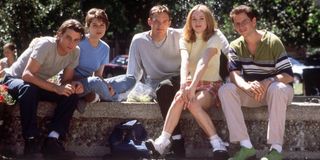 "Do you like scary movies?" If so, you've most likely seen the Scream franchise. The original Scream is amongst some of the best horror movies, and it's been well over 2 decades since the creation of Woodsboro and the terror-inducing Ghostface. In anticipation of the upcoming Scream 5, we're taking a look at the OG Scream cast, including the icons that are Courteney Cox, Neve Campbell, and Skeet Ulrich, and where they are now all these years later.
This article contains big spoilers from Scream, so if you still haven't seen the 1996 movie yet, we suggest reading no further and perhaps checking out our list of upcoming horror movies.
Neve Campbell (Sidney)
Portraying possibly one of horror's most impossible heroines to kill, Neve Campbell played the part of Sidney Prescott in all four previous Scream films. She proved herself to be the ultimate final girl by defeating the ever-evolving Ghostface time and time again. The scream queen is still alive in the Scream universe and Campbell will be reprising her role as Sidney in the upcoming 5th film, simply titled Scream after the original that premiered over 25 years prior.
In addition to her final girl status that Scream has awarded her over the years, she has also cemented her place in '90s horror with her roles in the iconic Wild Things and The Craft. Currently, though, she has been cast in a leading role for the upcoming series The Lincoln Lawyer, which is expected to be released to Netflix for streaming sometime in 2022.
Courteney Cox (Gale Weathers)
For a franchise that's all about following horror movie rules, they break a pretty big one by allowing two final girls who not only survive just the first film, but all four films together. Courteney Cox's Gale Weathers is more of a final woman, though, as Cox brings her own full bodied strength of will to the character. The actress is another member of the original cast that will be reprising their roles in the upcoming 5th installment of the Scream franchise.
Filming Scream isn't the only iconic reunion Courteney Cox has had recently, though, because she just appeared in and executive produced HBO Max's Friends: The Reunion with the rest of her Friends co-stars a few months ago. Cox will be acting as both producer and star for the Netflix sports docuseries Last Chance U and will appear in the TV movie Shining Vale.
David Arquette (Dewey)
Despite being attacked in all 4 released Scream films, David Arquette's Dewey Riley is yet another character who has survived the many versions of Ghostface. In addition to being another OG cast member returning to the Scream 5 cast, Arquette is actually pretty busy these days with a lot of projects on his plate. He has taken a pretty heavy list of titles in the role of producer, and has acted in a number of those projects. Interestingly enough, it seems as though the star gravitates toward producing documentaries.
In fact, David Arquette recently both starred in and produced a documentary about himself and his return to professional wrestling called You Cannot Kill David Arquette. The Next Step is another recent documentary with Arquette as executive producer. The star also has both an acting role and production credit for the upcoming Ghosts of the Ozarks and according to Deadline, has snagged a recurring role in the Amazon series Hot Pink.
Skeet Ulrich (Billy)
Ah, the horror movie heartthrob! Skeet Ulrich made a bit of a name for himself in the '90s as a high school hunk turned villain for his roles in Scream and The Craft (both of which he played alongside star Neve Campbell), and honestly these days he's just as hunky. He currently appears in Riverdale as JP Jones, Jughead's biker gang leader father. He also has a smaller part in the series Bronzeville and a number of films coming up.
Skeet Ulrich will appear alongside Tom Hanks in the post-apocalyptic world of Finch later this year. He also will play opposite Michelle Monaghan in Blood and has big parts in both upcoming films The Mystery of Casa Matusita and Supercell.
Matthew Lillard (Stu)
Matthew Lillard plays the second killer in Scream ("Surprise, Sidney!"), setting up the semi-tradition of having multiple killers behind the mask of Ghostface. It'd be pretty hard for him to return for Scream 5, even though he'd love to, but he does have quite a few ongoing projects keeping him busy. The live action Scooby Doo star has taken over the voice acting role of Shaggy since 2010 (minus the recent Scoob!) and is the second most common actor to take on the position, beaten only by the OG voice of Shaggy, Casey Kasem.
In addition to voicing Shaggy in the many versions of Scooby Doo, Matthew Lillard has a recurring role in the series Good Girls and a leading part in the announced film One Heart. Lillard also appears in the trailer for He's All That, a reboot of the classic '90s film She's All That, in which Lillard also appears.
Jamie Kennedy (Randy)
The horror movie expert and death predicting Randy Meeks was played by Jamie Kennedy in the OG Scream and returned in the 2nd, when his character was killed (or was he?). Being as knowledgeable about serial killers as he was, Randy made a video before his death that was played in the 3rd Scream, making Kennedy a major part of the first three Scream films. These days, though, Kennedy usually appears as himself in projects, mainly doing stand-up comedy and appearing on podcasts, although he does still act and appear in films.
He is combining his acting and comedy skills in a new film Don't Suck where he plays a veteran comedian on the road with another, younger comic. He also had a major role in the film Roe Vs Wade, which released earlier this year.
Drew Barrymore (Casey)
Drew Barrymore created one of the most iconic opening horror movie scenes when she chatted on the phone with her killer about popcorn and scary movies in Scream. Although she died immediately and was only in the film for a few minutes, she broke the horror movie mold and will forever go down as one of the most recognizable and influential scream queens.
The popular actress isn't acting so much anymore, however she is very much still in the limelight. Drew Barrymore has traded film sets for a talk show one, as she is the host of her own The Drew Barrymore Show, which is about to bring in a live audience for Season 2.
Rose McGowan (Tatum)
Rose McGowan appeared in Scream as Stu's new girlfriend Tatum, who surprisingly held her own pretty well against Ghostface but eventually caught her demise thanks to a too-small doggy door. McGowan was a pretty iconic actress in the '90s and 2000's, with roles in Jawbreaker, Planet Terror, and the series Charmed. She was also known off screen for her eccentric style, alongside her then-partner Marilyn Manson.
The actress has been the center of some controversy the last few years as she has spoken out about Hollywood injustices, namely Harvey Weinstein and later director Alexander Payne. Currently Rose McGowan is acting as star, producer, and director for two future films: Pomerania and Sleepwalk.
Liev Schreiber (Cotton Weary)
Playing the complicated and misunderstood character of Cotton Weary, Liev Schreiber did a great job in misleading viewers as to whether he was the killer or not in both Scream 2 and Scream 3 (until he was killed, of course) even though he was proven to be innocent of murder in the first film. Other than his role in The Omen, the Scream franchise was pretty much all of Schreiber's horror stint and he went on to act in different genres.
These days Liev Schreiber is the titular character in the upcoming film Ray Donovan, which comes after his Showtime series of the same name that ran for seven seasons was cancelled in 2020. He is also in the upcoming Wes Anderson film The French Dispatch and is set to star in Across the River and Into the Trees.
Henry Winkler (Principal Arthur Himbry)
One big name you may have forgotten was in the original Scream was The Fonz himself, Henry Winkler. He played the principal of Woodsboro High and met his untimely death at the hands of Ghostface after-hours in the school. He may have gone uncredited, but he was definitely a noticeable character throughout the film.
Henry Winkler is still pretty active in Hollywood, doing both live action and voice acting. He has a few smaller parts in animated children's shows but has a pretty big voice acting role in the upcoming Disney+ series Monsters At Work as Fritz. He also joins his Scream costar Liev Schreiber in Wes Anderson's The French Dispatch this year.
If that cast list was not already epic enough, horror icons Linda Blair (who played Regan in the classic The Exorcist) and director Wes Craven also appeared briefly in the film. Blair's cameo was so small you probably missed it - she played an annoying reporter that David Arquette's Dewey quickly shoos away. Wes Craven, who famously cameoed in all his films, shows up as a janitor dressed as one of his other horror icons, Freddy Krueger.
Although we can only expect to see a few of these faces back in the rapidly approaching Scream 5, the cast of Scream 5 is looking pretty tight as well.
Constantly thinking about books, coffee, and the existential dread I feel from Bo Burnham's Inside. While writing I'm also raising a chaotic toddler, who may or may not have picked up personality traits from watching one too many episodes of Trailer Park Boys.
Your Daily Blend of Entertainment News
Thank you for signing up to CinemaBlend. You will receive a verification email shortly.
There was a problem. Please refresh the page and try again.