Upcoming Jamie Lee Curtis Movies: Everything The Halloween Kills Star Has Coming Up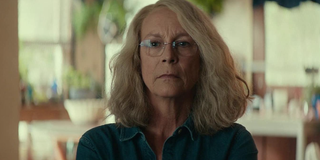 As a fan of horror films, Jamie Lee Curtis is one of the first actresses I always think of. From the iconic Halloween franchise, Jamie Lee Curtis has been in some of the best horror movies, becoming an icon in the industry as the ultimate scream queen. However, just because she made her name playing Laurie Strode in the Halloween series does not mean that's all she's known for.
With a range of acting skills that carry her from horror to comedy to heartfelt films, Jamie Lee Curtis has several awesome movies coming out soon, with some anticipated upcoming horror films that are a part of the 2021 new movie releases, and video game adaptations with star-studded casts. If you're a fan of this famous final girl, check out what the upcoming Jamie Lee Curtis movies, like Halloween Kills.
Halloween Kills - October 15, 2021
It would be a sin not to mention Jamie Lee Curtis playing her iconic character, Laurie Strode, once again in the upcoming sequel to the 2018 Halloween film, titled Halloween Kills.
In this upcoming horror film, Michael Myers is back at it after somehow vanishing from the burning family home of Laurie Strode, no doubt leading us into more hijinks and horror mishaps as the franchise continues.
Jamie Lee Curtis has portrayed this character for a long time, and 2018's Halloween was a fantastic return to form, showing how, even over forty years later, Laurie Strode is still a badass. With Halloween Kills coming up sooner rather than later (Squee!), it won't be long until we get to see her and her horror-riddled family back on movie screens once again.
It seems that Michael Myers himself will be next-level, too, which makes me even more excited for this brand new addition to the series. Hopefully, this will honor Jamie Lee Curtis' amazing character in a way that hasn't been done before, and we'll get to see Laurie Strode be the kick-butt final girl (now a woman) that she always was. I have a feeling this will be the ultimate slasher.
Borderlands - 2022 (Post-Production)
You know, out of every video game out there that I have played, Borderlands was one that I never thought would get adapted. It was a world full of rich colors, interesting physics, and characters that I didn't think anyone could quite pull off.
However, we were blessed with the news this year that Jamie Lee Curtis signed on for director Eli Roth's Borderlands film adaptation. She will play Tannis, an archaeologist on the planet Pandora. Eli Roth released a statement to Variety about her joining the film:
Jamie Lee Curtis isn't the only big-time star in this film, though - the entire Borderlands cast is filled with them. Academy-Award winner Cate Blanchett and comedian Kevin Hart will both be in the movie, playing Lilith and Roland respectively.
Not only that, but Edgar Ramirez signed on to play Atlas in the Borderlands adaption, according to Deadline, alongside a list of stars including Ariana Greenblatt, Florian Munteanu, Haley Bennett, and Jack Black (who is playing Claptrap - I can't picture anyone as that little robot).
Deadline also reported that Gina Gershon, Cheyenne Jackson, Charles Babalola, Benjamin Byron Davis, Steven Boyer and Ryann Redmon are all set to have roles in Borderland as well.
It's insane that a film like this has so many stars, but I am all here for it. Jamie Lee Curtis actually opened up about the filming experience on Borderlands recently to Total Film magazine (via Gamesradar), saying it was crazy what they've done.
Well, talk about an interview that has me all hyped up and ready to go. Can 2022 come sooner? I need to see this video game film ASAP.
Everything Everywhere All At Once - TBA (Post-Production)
Moving onto another wonderful adventure, we take a look at the A24 film, Everything Everywhere All At Once.
According to Deadline, this film is set to star Jamie Lee Curtis alongside several other stars. This includes Michelle Yeoh, Stephanie Hso from the Amazon original series The Marvelous Mrs. Maisel, James Hong from Big Trouble in Little China and Chinatown, and Ke Huy Quan, from Indiana Jones and the Temple of Doom and The Goonies.
Dan Kwan and Daniel Scheinert, known as The Daniels, are teaming up to direct. They previously worked on another A24 film, Swiss Army Man, starring Paul Dano, Mary Elizabeth Winstead and Daniel Radcliffe, as well as The Death of Dick Long.
Not much is known about the upcoming film, with the only plot hint being that it will be an "interdimensional action film." Talk about a vague premise.
Some of its most recent filming updates were back in 2020, where it was reported to be filming in Los Angeles, according to Backstage (opens in new tab). There's no set release date on this one yet, though, so hopefully we'll get some more news regarding this wild adventure soon enough.
Halloween Ends - October 14, 2022 (Pre-Production)
If you thought you were only going to see Laurie Strode once on this list, you would be wrong. Halloween Kills might be just around the corner, along with a spooky season filled with wonderful thrillers and more, but in the next year, we have another sequel coming out - Halloween Ends, the final in the recently revived Halloween series.
The sequel was ordered with the Halloween Kills sequel, so it's not a surprise that a third - and final - film is coming soon. However, it is surprising that it's going to be coming out as soon as next year. According to James Jude Courtney, who created a Cameo for a fan that was posted to Instagram, he confirmed that filming for Halloween Ends is beginning this fall - practically right when Halloween Kills comes out.
While it is great news that Halloween Ends is going to begin production really soon, there's sad news as well. Jamie Lee Curtis recently talked about her role as Laurie Strode in a different Total Film interview (via Gamesradar once again), and said that the next film will most likely be the last time she plays the iconic character.
For someone who grew up watching horror films, this makes me extremely sad, but I don't blame her. I can only imagine how hard it must be to play a character like Strode that is constantly hunted down by someone as evil as Michael Myers.
Regardless, I can't wait to see what happens in this last film. Hopefully, it'll be just as different and scary as director David Gordon Green promises, and gives Curtis that great final bow as Laurie Strode, if it is the last time she plays her.
How We Sleep At Night - TBA (Announced)
As the last item on this list, while there haven't been any recent updates, it's still worth mentioning for the personal aspect of what How We Sleep At Night means to Jamie Lee Curtis. According to Deadline, Jamie Lee Curtis has teamed up with Lifetime to create a TV movie called How We Sleep at Night: The Sara Cunningham Story, where she will both direct, produce, and star.
The story tells the tale of a devout Christian mother who came to terms with her son being gay. For Jamie Lee Curtis, this is a passion project, and she received the rights to Cunningham's memoir a couple of years ago.
In an interview with Lifetime, Curtis talked about why the story meant so much to her, and why she was devoted to bringing this story to life.
Recently, Jamie Lee Curtis has revealed that her own child, Ruby, transitioned from male to female, and that she is in full support - and how she's even going to be the officiate at her daughter's wedding next year. So, a story like this must mean a lot to her.
While there hasn't been much news that has come out recently about the film, I'm still in full support and can't wait to see Jamie Lee Curtis bring this to life, and present this wonderful story of love and acceptance. If only Lifetime could release an update - now that would be nice.
Jamie Lee Curtis is a horror icon who has truly done it all in terms of genres, and with how much she has coming up, I can't wait to see her play Laurie Strode once more, and bring brand new characters to the big screen.
Your Daily Blend of Entertainment News
Big nerd and lover of Game of Thrones/A Song of Ice and Fire. Will forever hate season eight. Superhero and horror geek. And please don't debate me on The Last of Us 2, it was amazing!
Your Daily Blend of Entertainment News
Thank you for signing up to CinemaBlend. You will receive a verification email shortly.
There was a problem. Please refresh the page and try again.