Hugh Jackman's Reminiscence Reviews Are Here, Check Out What Critics Are Saying About The Sci-Fi Movie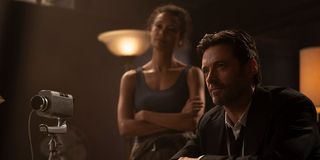 Who else is ready to see Hugh Jackman back on our screens? He next stars in the science fiction thriller Reminiscence as Nick Bannister, a private investigator of the mind, who navigates the past by helping his clients access lost memories. Living on the sunken Miami coast, his life is forever changed when he takes on a new client, Mae. A simple matter of lost and found becomes a dangerous obsession. As Bannister fights to find the truth about Mae's disappearance, he uncovers a conspiracy. Rebecca Ferguson stars as Mae (marking a reunion of the two actors from The Greatest Showman), and the film also features Thandiwe Newton, Cliff Curtis, Marina de Tavira, and Daniel Wu. Lisa Joy, co-creator and showrunner of Westworld, directed the thriller in her feature film directorial debut, and considered Jackman's casting essential.
Reminiscence will debut in theaters on August 20, with a month-long simultaneous release on HBO Max. Critics have started releasing their reviews, so let's take a look.
We'll start with the home team, like usual. CinemaBlend's Mike Reyes is giving high praise to Reminiscence, rating it 4 out of 5 stars. He really enjoyed Jackman's performance as the lead, but pointed out that the entire cast shines. Reyes also complemented Joy's direction, noting that her meticulously crafted storytelling upgrades the neo-noir genre and is a visual and thematic thrill. Overall, he noted:
Leah Greenblatt from Entertainment Weekly had a completely different take on Reminiscence. While she found the premise intriguing, she thought the plot was just silly, with the sole voice of reason coming from Newton in a few scenes. Greenblatt thought that the actors tried hard to make the best of "dim material," but overall she was unimpressed with Joy's directorial debut, saying:
David Rooney from The Hollywood Reporter echoed those sentiments in his review. He thought the plot was so convoluted that the revelations are like "a leaky faucet." He argued that there's so much going on that it's impossible for characters to establish themselves, specifically Newton's underused Watts. Rooney highly criticized Reminiscence, calling it:
The negative opinions of the sci-fi thriller continue with David Ehrlich from IndieWire, who thinks that Reminiscence should be forgotten. He argued that the plot is a bit too predictable and incoherent. Ehrlich also thought it was a drag to watch Hugh Jackman try to piece together the storyline to justify the film's metaphors, and criticized the lack of established characters. He said:
Pat Padua from The Washington Post thought the concept was fascinating, but was ultimately disappointed with Reminiscence. He criticized the thriller for relying too heavily on other memory-themed films and being too over-stuffed with plot. While Padua did enjoy a fight scene, he thought the action flick failed to keep viewers interested, saying:
Well, that was bleak. Critics seem to be rather unimpressed with Hugh Jackman's Reminiscence. Will viewers feel the same way? We'll soon find out, as the sci-fi thriller releases in theaters and on HBO Max on August 20.
In the meantime, you can check out what else is coming up from Warner Bros. (the studio bringing us Reminiscence) to plan your next movie-going experience.
Your Daily Blend of Entertainment News
Thank you for signing up to CinemaBlend. You will receive a verification email shortly.
There was a problem. Please refresh the page and try again.