The Kissing Booth 3: What Fans Are Saying About The Final Movie In The Netflix Trilogy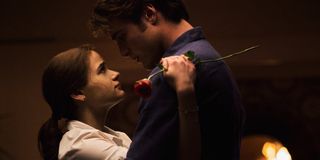 (Image credit: (Netflix))
SPOILERS are ahead for The Kissing Booth 3, so tread lightly.
Welp, The Kissing Booth trilogy certainly flew by, didn't it? Just three years ago, we watched sparks fly between Joey King's Elle and Jacob Elordi's Noah, and now they are already off to college and their careers by the end of The Kissing Booth 3. Where did the time go? Since the last movie in the series hit streaming, fans have been taking to social media to share their reactions, and we need to talk about what they are saying about the finale.
The Kissing Booth 3 did not impress critics, including CinemaBlend's review by yours truly, as I gave the film 1.5 out of 5 stars. And overall, audiences we're not super impressed with the movie either, but it certainly has its fans too. Here's the range of feelings that viewers had coming out of The Kissing Booth 3.
Fans Were Getting Super Emotional About The Ending
Let's start with the positive, because when it comes down to it, The Kissing Booth 3 was made for its fans, and those are the people who loved it the most. The biggest point of discussion was regarding the ending, which we won't go into depth here, but we will say it sees Elle and Noah six years after their high school days. Fans shared what the conclusion meant to them with posts like this:
The movie wraps up the love story between Elle and Noah in a unique way that we don't necessarily expect from a YA film. It created a lot of emotions from fans and they took to social media to share their takes on the message behind the film:
It looks like the movie really connected with a lot of fans. The Kissing Booth 3 centers on Elle's friendship with Lee and young romance with Noah, and the final movie gives audiences closure on the storylines. Another viewer shared their love for the way the movie concluded:
Joey King worked on making the ending perfect for fans as an executive producer, and even though the actress has shared that she does not plan to reprise her role as Elle after The Kissing Booth 3, some fans are still not ready to say goodbye:
Now that we've seen some of the happy customers of The Kissing Booth 3, let's dive into the dark side of it.
A Lot Of People Really Did Not Like Kissing Booth 3
The Kissing Booth 3 really is not a lot of people's cup of tea, and they were not embarrassed to make that known on social media. One fan, for example, couldn't take their viewing of the Netflix release. Thankfully, one actor got them through it:
It's no secret that a lot of people watch The Kissing Booth movies to follow Elle's drama and watch the main characters fight over her. Then there are a lot who of fans watch it anyway, not for the quality, but just to watch it. Because hey, it exists.
A lot of discourse around The Kissing Booth movies revolves around there being three actual Kissing Booth movies when the entire trilogy have not been groundbreaking in any sense. As another person quipped:
So it wasn't for everyone, but there's more where that came from regarding thoughts about the release.
Fans Felt One Character Got Seriously Underserved
Aside from the like it or hate it discourse, The Kissing Booth fans also got into a conversation regarding one character who is into Elle, but didn't necessarily get the best sendoff. Taylor Zakhar Perez's Marco is a fan-favorite in the franchise who ended up being an underdog pick. There's some chemistry between him and Elle throughout the series, but when it comes down to it, it's one of tragedy.
As fans shared, they "feel bad for him" because of the way Marco was treated in the third film. He's a great friend to Elle, who clearly has some feelings for her, but when it comes down to it, he's underserved and it continues to be the Elle and Noah show.
Some fans were bummed that he was even in the movie when his story ended in such an unsatisfying way. I mean, not everyone can get the girl! A lot of people wanted Elle to choose Marco in the end, but that's not what went down.
One could argue that he was the better option, especially since Noah often causes a rift between Elle and Lee's friendship. Oh well, hopefully we'll see the up-and-coming actor in another capacity in the future.
Some People Definitely Could Not Relate To Joey King's Elle
One major issue that came up by the end of The Kissing Booth 3 was the storyline Elle is met with throughout the movie. During the threequel, she is choosing between going to Harvard or Berkeley, as well as juggling a bunch of teen boys at once. It's not exactly relatable for many young girls who could only hope the United States college system was that fair:
It speaks to some unrealistic expectations Netflix could be sending the young teens of the world, imagining such an incredible accomplishment without it looking like a big deal to Elle or seemingly not that difficult to obtain. Did you know the Harvard acceptance rate is 4.6%? The chances of both Elle and Noah getting into the same school (especially that school) is super low. Here's another piece of commentary via Twitter:
There you have it. There's a lot of female-driven love stories and love triangles these days, why The Kissing Booth? It's popular, but not everyone agrees with its storylines, nor was impressed with how big of a franchise this became. And to conclude, here's one more social media opinion on The Kissing Booth 3:
What did you think about The Kissing Booth 3. Share your thoughts in the poll below.
This poll is no longer available.
YA genre tribute. Horror May Queen. Word webslinger. All her writing should be read in Sarah Connor's Terminator 2 voice over.
Your Daily Blend of Entertainment News
Thank you for signing up to CinemaBlend. You will receive a verification email shortly.
There was a problem. Please refresh the page and try again.