Michael B. Jordan Is Working Those Abs On A Fitness 'Mission,' And Dang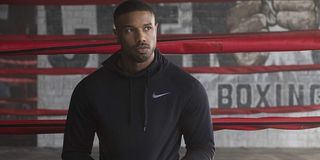 Michael B. Jordan is without a doubt one of the hardest working actors in Hollywood right now. In the last few years alone, the A-list star has landed roles in high-profile productions like Black Panther, Creed II, and Without Remorse, and he has other things lined up. Of course, in order to play characters in films like those, Jordan has to stay in top physical condition, which means spending plenty of time in the gym. Now, it would seem the actor is on another fitness "mission" and, based on his abs, he seems to be succeeding in a big way.
Michael B. Jordan's commitment to fitness is one of the major reasons he earned the Sexiest Man Alive title. This dedication was more than apparent in a recent Instagram story, that showed him working his abs during a session. Although Jordan's "mission" seemed to be wearing on him a bit, he was absolutely pushing through any pain. Check out a snapshot from his workout down below:
Dang, this shot of Michael B. Jordan reminds me that I really need to work out more. But my own fitness shortcomings aside, you can't help but appreciate how determined the actor is. It's honestly very hard not to look at those aforementioned abs, and that first photo doesn't even do them justice. Check out this one to get a better look:
Training like this will remain invaluable to Michael B. Jordan as he continues to take on roles with immense levels of physicality. While playing a boxer in Creed is no walk in the park, Without Remorse really pushed the star to his limits. His training for the Tom Clancy movie involved weapons, military diving and close-quarter combat.
But this recent Instagram post now makes one wonder what the actor is currently training for. There's a very good chance he's getting ready for Creed III, which will mark his third performance as Adonis Creed (and his first time in the director's chair). And even if this specific workout isn't for the Creed sequel, it could serve as an indication of how he's planning to approach his prep for the project.
In the past, Michael B. Jordan has gone hard when it comes to training and gaining muscle for the Creed franchise. He actually picked up 20 pounds of muscle in preparation for Creed II, which is no small feat. Around that time, Jordan explained that his intense prep stemmed from his desire for audiences to see a true evolution in Donnie's physique.
One would imagine that Michael B. Jordan is quite pleased with his fitness routine, as are producers across Hollywood looking to hire him. And it would be fair to assume girlfriend Lori Harvey is impressed as well. I wish Jordan the best as he continues to train. Now, if you'll excuse me, I have to go order some weights.
Covering superheroes, sci-fi, comedy, and almost anything else in film and TV. I eat more pizza than the Teenage Mutant Ninja Turtles.
Your Daily Blend of Entertainment News
Thank you for signing up to CinemaBlend. You will receive a verification email shortly.
There was a problem. Please refresh the page and try again.