Beyoncé Reveals Why She Sets 'Boundaries' Between Social Media And Her Personal Life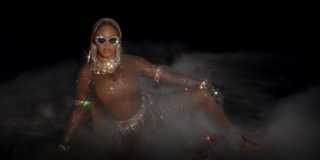 There are few people on this Earth more famous than Beyoncé, and with good reason. The legendary artist is so talented, she commands our attention whenever she releases anything, whether it's new music, a new film, or any other kind of surprise. Her global notoriety and impact are even more impressive because she has drawn clear boundaries between the most personal aspects of her life and the way she interacts with fans and the media. Now, she's revealed exactly why she's chosen to keep her social life off social media.
It's not that Beyoncé's personal life is a secret. You don't have to look very hard to learn who she's married to, who's in her family, and even the details of some of the most heartbreaking moments of her life. That doesn't mean the singer/actress/filmmaker/mogul doesn't see the value in keeping big parts of her day-to-day life to herself, though. In an interview with Harper's Bazaar, Beyonce spoke candidly about why she isn't one to overshare on social media:
There's something really inspiring about Beyoncé's decision to let her creative output speak for itself. By taking a step back from social media and living her life outside the public eye, she's actively choosing not to participate in one of the most prevalent parts of celebrity culture. But she is confident she's made the right choice:
Beyoncé has more than made sure that fans still get plenty of what they love about her. With her Homecoming documentary or her myriad of visual films like Disney+'s Black Is King, we get glimpses of her family. More importantly, we get to see her artistic and creative side and the passion for music that has made her one of the most beloved stars in the world.
Your Daily Blend of Entertainment News
Thank you for signing up to CinemaBlend. You will receive a verification email shortly.
There was a problem. Please refresh the page and try again.