OnlyFans Boomed In 2020, And Beyoncé Was Partially Responsible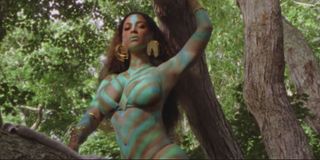 As we are approaching the end of a long and socially distanced year, there have been some success stories. One of them is the platform OnlyFans, which saw growth from 7.5 million subscribers to 85 million in 2020. As it turns out, popular singer Beyoncé is at least partially responsible for the platform's pandemic year success.
You may need to get your head out of the gutter given the content OnlyFans is mostly known for. Unlike some other celebrities, including the likes of Bella Thorne, Cardi B and Tyga, Queen Bey is not currently on the platform and selling anything personal. However, if you can recall the "Savage" remix from earlier in 2020 -- I know it's been a really long year, but you can think back that far -- there is a line about OnlyFans in the track that led to a very significant OnlyFans boost.
In the track, Beyoncé mentions popular platforms like TikTok and OnlyFans, noting, "Hips TikTok when I dance/On that Demon Time she might start an OnlyFans." At the time, OnlyFans even responded to the line in the song with a statement (via Rolling Stone) noting:
That might have been the end of it, but actually Beyoncé is so influential that just the fact she name-dropped the platform in her part of Megan Thee Stallion's "Savage" remix led to a 15% increase in traffic to the site in the day after the track dropped, according to The Guardian. Fifteen percent, and given the platform was already popular over the summer when the track came out, that would equal a large number of fans who seemingly were clued in to the platform thanks to the "Savage" mention.
Here, it's worth delving into some more numbers and noting that OnlyFans was already on the rise in 2020 when Beyoncé named-dropped the platform. People have been choosing OnlyFans as a socially distant mode of engagement -- particularly in regards to nude content -- since the pandemic began in March. Back in that month, as businesses and more were shutting down, OnlyFans started adding more and more people to the platform, both from the content creation and subscription end. An earlier stat notes that 3.7 people registered for the platform between March and the end of April, just as the pandemic was getting into full swing. (As noted prior, at the start of the year the platform already had 7.5 million subscribers.)
Obviously, the site has grown in full force since then. Some popular content creators, including Belle Delphine, are allegedly making upwards of $1 million per month as more and more people join OnlyFans --though the platform has confirmed only around 100 content creators have made over a million on the site. As more and more celebrities join -- particularly in the world of reality TV -- the platform also gives fans access to celebrities in ways they haven't been able to previously. It's been a wild year and one full of changes, but it looks like OnlyFans is going to stick, thanks to a little unanticipated help from a pop star and a pandemic.
Reality TV fan with a pinch of Disney fairy dust thrown in. Theme park junkie. If you've created a rom-com I've probably watched it.
Your Daily Blend of Entertainment News
Thank you for signing up to CinemaBlend. You will receive a verification email shortly.
There was a problem. Please refresh the page and try again.