Why Should Audiences See Free Guy This Weekend? Ryan Reynolds Shares A Hilarious And Compelling Reason On TikTok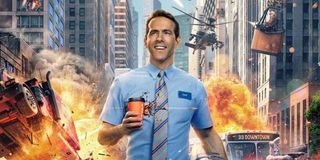 Free Guy has become one of the most successful movies of the summer. While fans haven't been able to stop talking about how funny it is, its star, Ryan Reynolds, somehow keeps finding ways to make it even funnier by way of social media. The actor has starred in hilarious videos that expand the Free Guy world even more -- and, now, he's using TikTok and an inside joke from the movie to try and compel fans to go see it this weekend.
Recently, Ryan Reynolds shared a short video on his TikTok account that doubles as a pretty brilliant marketing device for Free Guy. While he doesn't actually say a word in the clip, the caption makes it clear what he's promoting. Take a look at the hilarious clip below:
It's hard to say what the funniest part of this is: Ryan Reynolds' resigned expression, his less-than-perfect lip-syncing, or the fact that he still totally commits to selling the performance by the end. If you've seen Free Guy, then you'll know exactly why and how "Fantasy" makes sense as the focal point for this clip. The '90s pop hit features prominently in the movie's plot and has become a bit of a running gag in the film's promotions. If you haven't seen the movie, well, it might leave you confused, but it will also probably make you want to figure out why the actor is lip-syncing to Mariah Carey.
Truthfully, Free Guy may not even need a whole lot of promotion at this point. The action-comedy, which stars Ryan Reynolds as a sentient NPC in a fictional Fortnite-esque video game, has created substantial buzz, thanks to its inventive premise, hilarious easter eggs and amazing cast (the clever cameos didn't hurt, either). Even Mariah Carey has admitted to being a superfan of the movie, and we can't say we blame her -- she recently tweeted that she's already seen it nine times.
That buzz has translated to big numbers at the box office, where even in the midst of the pandemic, it surpassed expectations in its opening weekend and continues to pull in strong numbers. In fact, it looks like Ryan Reynolds' creative marketing efforts have paid off, because the film landed at #1 in the domestic box office yet again this weekend.
A even if the video doesn't work, Free Guy has been such a success that it looks like Disney is already in the market for a sequel, and it's safe to assume that Ryan Reynolds will be attached in a big way. That most likely means we'll be in for more "reluctant" promotional videos from the star -- and probably a lot more "Fantasy," too. Maybe this time around, Ms. Carey herself can actually make an appearance.
Free Guy is currently playing in theaters nationwide.