How Ryan Reynolds' Obsession With Mariah Carey Became A Running Gag In Free Guy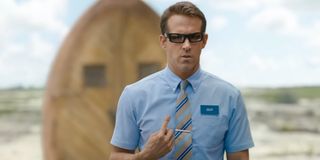 Music is such a key ingredient to any movie, especially when it comes to selling a film like director Shawn Levy's Free Guy to the public. And as luck would have it, star Ryan Reynolds helped hand-deliver the ultimate hook to get this concept, and the song that sells it, stuck in everyone's heads for quite some time. All it took was Reynolds' obsession with Mariah Carey's music while working on the film's story to make the dream of Free Guy become a running gag that's just a sweet, sweet fantasy.
As you can tell in both trailers for Free Guy, the key piece of music that's spanned both looks at the now December-slated release has been Mariah Carey's early career mega hit "Fantasy," and the reason for that was simply writer's inspiration. With Ryan Reynolds acting as one of the hands that helped overhaul the original script written by Matt Lieberman and Zak Penn, his talents turned out to be fueled by Carey's collected works, with that 1995 single off the aptly-titled album Daydream being the metaphorical rug that tied the room together. While speaking with Shawn Levy on behalf of CinemaBlend, as he was promoting Love and Monsters, I asked about the story behind this comedic gem, and he explained it as follows:
Both Shawn Levy and Ryan Reynolds have been adamant about how much they've enjoyed working on Free Guy together; and that much is as apparent now as was back on the film's set in the summer of 2019. The original concept linked these collaborators in their enthusiasm, and the process only seems to have forged their talents all the closer, as Reynolds and Levy are already primed to bring their skills to a future time travel comedy the pair have pledged to Netflix. Which, if the humanistic comedy that fuels both Love and Monsters and Free Guy is any indication, could lead to another musician's catalog being raided for the still-unnamed project.
I can't understate the importance of "Fantasy" when it comes to Free Guy, as the subject of its inclusion led to a moment of slightly evil glee on the part of Shawn Levy. That's not saying that the man is vicious in his intent, but like any good creator, Levy takes delight in gauging what he can tease and what he can keep secret. As he started to further reveal the main thrust of the running gag, a playful moment ensued that started with a promise of information, but turned into the following:
While this is a pretty big tease for just how far Free Guy's Mariah Carey obsession goes, we have seen a hint at where this plot device is going. In the recently unveiled second trailer for the film, Jodie Comer's character of Molotov Girl, the Free City avatar to the game's creator and programmer Millie, is seen singing "Fantasy" as she's walking down the street. It almost looks like this moment is also the moment where Ryan Reynolds' Guy first sees/falls in love with Molotov Girl, which means that this song's meaning could tie to our protagonist's feelings for the woman of his dreams. Check out the second trailer for Free Guy below, and you can see what I'm talking about.
Should this theory be true, there's a chance that we'll hear "Fantasy" not only recur in its original form, but also reinterpreted in anything from ambient noise and specially themed easter eggs, as well as woven into composer Christoph Beck's Free Guy score in some fashion or another. None of this is confirmed right now, and honestly, whether these guesses are right or wrong, Shawn Levy and Ryan Reynolds might have a good-natured chuckle when reading this line of reasoning. It's all part of the good natured suspense that's going to lead audiences to see Free Guy when it finally presses start in theaters on December 11.
However, if you want to see what Shawn Levy's been up to in the meantime, you can check out his latest film as a producer, Love and Monsters, which is currently in limited theatrical release. Though should you not feel safe heading to a theater near you, that film is also available on VOD.
Your Daily Blend of Entertainment News
Senior Movies Contributor
CinemaBlend's James Bond (expert). Also versed in Large Scale Aggressors, time travel, and Guillermo del Toro. He fights for The User.