Reminiscence Ending Explained: Hugh Jackman's Mystery Unraveled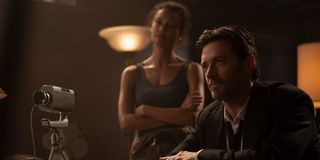 CinemaBlend participates in affiliate programs with various companies. We may earn a commission when you click on or make purchases via links.
Warning: spoilers for Reminiscence's ending are in play. If you haven't seen the film yet, and you want to go in fresh, feel free to come back once you've caught up. There's plenty of non-spoiler coverage to enjoy in the meantime.
Writer/director Lisa Joy did what she does best with Reminiscence. Weaving an intriguing mystery that's greater than both Hugh Jackman and Rebecca Ferguson's characters, the consequences of what we discover throughout the film are both earth shattering and very personal. It's a case that's worthy of the distinction of being labeled as a neo-noir, and right now, we're about to break it wide open and sift through the particulars.
This is your final warning for spoilers, as the Reminiscence ending requires a lot of discussion. As such, everything from small clues to huge revelations will be discussed. So, if you haven't watched it just yet, you can see the film either in theaters or on HBO Max, depending on when you're reading this rundown. However, if you're ready, prepare to go on a journey...A journey through the story of Reminiscence, as we begin with what happened at the end of the movie. To reach it, all you have to do is follow my voice.
What Happened At The End Of Reminiscence?
It began as a romance between reminiscence expert Nicholas "Nick" Bannister (Hugh Jackman) and nightclub singer Mae (Rebecca Ferguson). What started as a search for a set of lost keys turned into a sprawling mystery involving secret heirs, the balance of power, and the criminal underworld. And, it all ended with Nick making one bittersweet decision: to burn those who caused him to lose the woman he loved.
Upon learning why Mae suddenly disappeared from his life, as well as the truth behind the drama surrounding the legacy of real estate baron Walter Sylvan (Brett Cullen), Reminiscence's resolution comes down to one man. The lynchpin behind the entire criminal conspiracy at the heart of the film, crooked cop Cyrus Boothe (Cliff Curtis). Nick literally "burns" Cyrus into reliving a traumatic memory of actual burning, for the rest of his life. The man has his reasons, as Cyrus is the cause of Nick even being drawn into this case, and he's also the cause of Mae's disappearance.
After drawing the memories needed from Cyrus prior to his death, Reminiscence's ending sees Nicholas Bannister confessing his crimes to his trusted ex-partner, Emily "Watts" Sanders (Thandiwe Newton). Cutting a deal with law enforcement, Nick won't go to jail or be tried for Cyrus Boothe's death, or the illegal "burning" that came with it. Instead, he'll be confined in a different way: locked in a loop of his finest memories with Mae, living in a water tank until his body dies.
Maintained throughout the years by Watts, we see her visiting his symbolic grave, tending to his aged body. Reminiscence closes with Watts drawing the line that defines the perfect path for herself and Nick. She went on to live a full life, reconnecting with her family; while Nick finally stopped inflicting his own pain on the world by staying in his thoughts. Just as Mae had asked, Nick has created a story that ends in the middle, where everything is perfect if you don't go too far.
How Did Nicholas Bannister Get Drawn Into Reminiscence's Mystery?
Like any good noir story, if it wasn't for Mae wandering into Nicholas Bannister's life, he may have never wound up on the path that Reminiscence set him walking upon. Mae required Nick's services to find her lost keys, and through that initial encounter, they fell in love and had a relationship, until she disappeared. As it turns out, there was another motive at work when it came to their supposedly serendipitous meeting.
Mae was actually hired by Cyrus Boothe, an old acquaintance of hers that she'd made during her time hanging around with Reminiscence drug kingpin Saint Joe (Daniel Wu). A former addict, Mae stole a bunch of product, and left for a fresh start. Cyrus knew this, and blackmailed her into setting up the perfect trap for Nick, because one of his clients had some memories so important, someone was willing to kill in order to bury them.
The Sylvan Family Drama, Explained
Among Nick's Reminiscence clientele, he had some frequent fliers that liked to keep their trips simple, opting to only live in one moment. Elsa Carine (Angela Sarafyan) was one of those people, and her memory was a tender night with the father of her child, Freddie (Roxton Garcia). That man happens to be none other than Walter Sylvan, who has been on death's door for some time, leaving behind a love child who complicates the inheritance his son, Sebastian (Mojean Aria), stands to acquire.
Unable to accept this scenario, Sebastian hires Cyrus Boothe to do two things: steal Elsa's memories from Nick's records, and kill both her and Freddie to tie up loose ends. Cyrus aims to do this through Mae's help, as he crafts a fake scenario of losing her keys to ingratiate herself with Nick. The memories are eventually stolen, and Elsa is killed by Cyrus; leaving Mae to change her mind and hide Freddie with a trusted friend off the grid. Freddie is eventually found, and despite being given the chance to commit suicide, Sebastian Sylvan resigns himself to being arrested for Elsa's murder.
Mae's Life And Times
Coming to Miami after London went underwater, Reminiscence tells the story of how Mae fell in with the wrong people, and her potential solution to make it alright again. Hooked on the street drug known as Baca, thanks to Saint Joe's insistence, addiction saw her sticking around a circle of friends that were going nowhere legal. Her big disappearing act saw her starting fresh in Miami, until Cyrus caught up with her.
Ultimately betraying Cyrus, Mae sealed her fate for one overarching purpose: to save Freddie's life. Confessing the whereabouts of Freddie to Nick, through a confession that would live in Cyrus's memories, Mae says her goodbyes and commits suicide by drowning. Reminiscence ends with Nick symbolically joining her, after making sure Cyrus paid for his part in the plot, and her ultimate demise.
Why Nicholas' Final Choice Makes Bittersweet Sense
There's a couple of reasons why Nicholas's final choice in Reminiscence makes bittersweet sense. One is the fact that he has become so obsessed with Mae that his life just kind of stopped at the point where she disappeared. By this time, Nick was probably going to burn his memories of her into his mind by visiting them so much. Even Watts saw this, and her leaving their shared practice was the first big step in moving forward with her own life.
By saving Freddie's life, and uncovering the conspiracy surrounding the Sylvan family, Nick consigned himself to incarceration anyway. His tactics were illegal, and Reminiscence would have ended with him in a jail cell. It just so happened he chose a different life sentence, and carried it out himself.
Ultimately, much like the story of Orpheus and Euridyce that plays a crucial part in Reminiscence's romance, Nick eventually follows Mae back to the metaphorical underworld. While she's physically dead, Mr. Bannister is functionally dead, never to set foot outside of his reminiscence tank ever again. The lovers are reunited, and the story never ends, which makes Reminiscence a potentially potent double feature with Inception; another story obsessed with Greek mythology and the power of memory.
If this was a trip down memory lane for you, I do hope that it was one worth taking. However, if you've read through this rundown and haven't seen the film yet, you're in luck. It is still available in theaters, and until September 19th you can watch Reminiscence streaming on HBO Max. Check out the latest subscription offer, should you not already be a part of the family, as it'll grant you access to this and other exciting titles in the HBO library.
If you're looking for your next mystery at the movies, head over to our schedule of 2021 movie premiere dates; but, be careful. You don't know what sort of twists await under the surface.
CinemaBlend's James Bond (expert). Also versed in Large Scale Aggressors, time travel, and Guillermo del Toro. He fights for The User.
Your Daily Blend of Entertainment News
Thank you for signing up to CinemaBlend. You will receive a verification email shortly.
There was a problem. Please refresh the page and try again.