Sandra Bullock Looks Great At 57 In The Lost City Of D, Which Apparently Dropped The D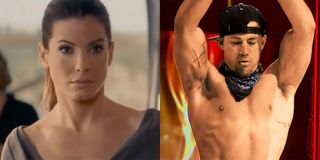 I dunno about you, but I've been pretty hyped for The Lost City of D ever since it was announced. Of course, at that time, it was expected to be another vehicle for Ryan Reynolds and Sandra Bullock, but even with the swap from Reynolds to Channing Tatum, what we've seen from the movie set has been encouraging. This week, CinemaCon 2021 brought us a first look at The Lost City of D, also revealing it has apparently dropped the D.
The Lost City of D only wrapped filming a few days ago, and Channing Tatum celebrated by getting a haircut and sharing a shirtless post (obviously so he wouldn't get hair on his shirt, right?). This wasn't the first time he's kept fans abreast of what's going on with his new movie where he will star opposite Sandra Bullock in a jungle-set adventure and at one point some sort of climbing scene seems as if it may be involved.
Look, Channing Tatum's fitness is the stuff of legend, but today at CinemaCon we had the opportunity to see himself and Sandra Bullock doing a bit of a ropes bit in which his head kept butting, literally, into her butt. The two were climbing up some sort of cliff in seemingly inappropriate clothing and while I have no context for what that means for the movie, it was enough for me to see the rapport the two will have onscreen.
This kind of gave us the tone of the movie, but also what's super striking to me is how great Sandra Bullock looks. She's out there climbing ropes and doing action-y bits at 57 and she looks great. Like, wow, great. Sorry Channing Tatum, but you may not be the eye candy in the upcoming rom-com, which Paramount also noted in a quick clip seems to have changed its name, dropping the of D.
I have no idea if this changed because it was fairly similar to The Lost City of Z, that decidedly unromantic film in which Charlie Hunnam and Robert Pattinson basically had a contest to see who could eat less on set to look more emaciated for the movie. I also kind of always thought also -- and so sorry-- the Of D part read a little close to Of The D, which inadvertently always inspired some phallic imagery in my brain. Might fit the tone of the comedy, but I'm not shocked if the title has changed.
Anyway, now the movie seems to be going by The Lost City. It's previously been described as a movie in the same vein as Romancing The Stone, which is coincidentally the same movie that Disney's recent venture Jungle Cruise had been compared to. In this case, with the head in the butt jokes I witnessed at CinemaCon 2021, the tone's probably not going to be the same as the Disney venture.
Originally, as noted prior, The Lost City of D had been set up as another team up for Ryan Reynolds and Sandra Bullock, who famously paired together for The Proposal in 2009. I'd be a little sad about it, but honestly, the two have been sharing content from set and seem to be having a good time. We didn't get any actual footage from the flick, just a funny clip introducing the film and giving us an idea of tone, but I'm hopeful The Lost City will be a good fit. For now, while we wait for more details be sure to check out everything we know about the upcoming flick. You can catch the movie in theaters in April of 2022.
Amazing Race & Top Chef superfan with a pinch of Disney fairy dust thrown in. Theme park junkie. If you've created a rom-com I've probably watched it.
Your Daily Blend of Entertainment News
Thank you for signing up to CinemaBlend. You will receive a verification email shortly.
There was a problem. Please refresh the page and try again.