Sandra Bullock And Ryan Reynolds May Reteam For The First Time Since The Proposal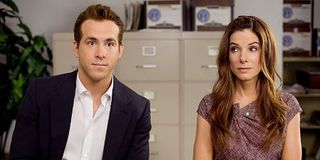 In recent years, Sandra Bullock has been seen orchestrating heists in Ocean's 8 and surviving the apocalypse in Bird Box, but now it looks like she's heading back to the romance genre. And, believe it or not, this new film in development might reteam her with Ryan Reynolds, her co-star from The Proposal.
It's been some time since Sandra Bullock appeared in a romantic feature. The Proposal is among her most notable appearances in the genre and that was back in 2009. Now, however, she will produce and star in the romantic action movie The Lost City of D for Paramount Pictures, according to Variety. Reportedly, Ryan Reynolds is being considered to co-star opposite Sandra Bullock, but there's no deal as of now.
Filmmakers Adam and Aaron Nee are attached to direct the film with a script by Dana Fox (who co-wrote the Rebel Wilson 2019 comedy Isn't It Romantic). The Lost City of D will follow a romance author after she discovers that a fictional city she wrote about is real. She sets out to find the city on a risky adventure.
This sounds like an intriguing idea and the kind of concept I bet Sandra Bullock and Ryan Reynolds would do wonders with. They proved to have great chemistry on The Proposal, so re-teaming them for a story like this seems like a no-brainer. It would also be their second team up together in over eleven years.
The Proposal, which premiered back in 2009, was a romantic comedy about Sandra Bullock's character forcing her assistant, played by Ryan Reynolds, to marry her so she can stay in the US and not be deported to Canada. The movie got somewhat lukewarm reviews for sticking too close to formula, but most agreed Sandra Bullock and Ryan Reynolds worked well together, and it was a massive hit earning over $300 million at the global box office.
Perhaps the biggest hang-up I can see to getting Ryan Reynolds to hop on to this project is that he's in a much different career situation than he was back in 2009. For one, he's likely working with Disney and Marvel to make more Deadpool movies. On top of that, he's currently busy filming Red Notice, has a slew of upcoming movie projects on his plate, and has an investment stake in a few businesses as well. So, yeah, he's a busy a guy.
Still, if the script for The Lost City of D is as good as its potential suggests, Sandra Bullock and Ryan Reynolds together could really make this movie sing. And, considering Ryan Reynolds seems to thrive in action-comedies, perhaps this would be just the next project he's been waiting for. Well just have to wait and see.
Your Daily Blend of Entertainment News
Your Daily Blend of Entertainment News
Thank you for signing up to CinemaBlend. You will receive a verification email shortly.
There was a problem. Please refresh the page and try again.