Dwayne Johnson's Jungle Cruise Has Screened, Here's The Buzz About The Disney Adventure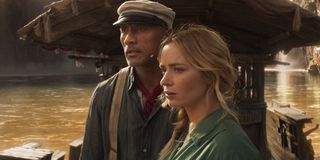 Movies based on Disney theme park attractions have done quite well in the past (ahem, Pirates of the Caribbean), so get excited for Disney's next fantasy adventure film, Jungle Cruise, which is based on the theme park ride. The movie was directed by Jaume Collet-Serra (Orphan, The Shallows), and stars Dwayne Johnson, Emily Blunt, Jack Whitehall, Jesse Plemons, and Paul Giamatti. Set during the early 20th century, a riverboat captain named Frank (Johnson) takes a British scientist (Blunt) and her brother (Jack Whitehall) on a mission into a jungle to find the Tree of Life, which is believed to possess healing powers that could greatly benefit modern medicine. All the while, the trio must fight against dangerous wild animals, a deadly environment, and a competing German expedition that is determined to reach the tree first.
Johnson and Blunt sure seem to be having a lot of fun promoting the film (as evidenced by their hilarious dueling trailers) and you can tell that their chemistry is just off the charts. Hopefully that chemistry translates on the big screen when the fantasy flick releases in theaters and on Disney+ Premier Access on Friday, July 30. The social media embargo for Jungle Cruise has broken and critics have started sharing their thoughts on the Disney blockbuster, so let's check out what they're saying.
Let's start with CinemaBlend's own theme park expert, Dirk Libbey. He thought Jungle Cruise was fun from start to finish, and particularly enjoyed Johnson and Blunt's chemistry. He noted that fans will love the plethora of easter eggs and bad puns, and said:
Courtney Howard, with credits from Variety, thinks you'll want to see the Disney blockbuster repeatedly! She compared the "epic adventure" to The Mummy, Pirates of the Caribbean, The African Queen, and Romancing the Stone, all rolled into one film. Howard said:
With another nod to Pirates of the Caribbean, Erik Davis from Fandango thought Jungle Cruise was a lot of fun throughout and filled with surprises. While he noted that Johnson and Blunt do have excellent chemistry together, he thought Jesse Plemons was "a riot." Davis said:
Rob Keyes from ScreenRant also compared the adventure flick to Indiana Jones, Romancing the Stone, and African Queen. He argued that audiences will be locked in after the first 10 minutes and will have tons of fun, saying:
Shannon McGrew of Nightmarish Conjuring, considered the fantasy flick over-the-top, but as a good thing. She also commented on another aspect not mentioned by the critics above, which is the horror aspect of the movie. She enjoyed the darker portions of the film, such as the creature designs, and noted that director Collet-Sera's horror roots really shine through in those moments. McGrew said:
Well, if these reactions are any indication, Jungle Cruise sure seems to be a fun movie! You'll soon be able to see it for yourself when the Disney blockbuster releases in theaters and on Disney+ (with Premier Access) on Friday, July 30.
Until then, you can check out our summer movie release guide to plan your next trip to the theater (or your couch).
Your Daily Blend of Entertainment News
Thank you for signing up to CinemaBlend. You will receive a verification email shortly.
There was a problem. Please refresh the page and try again.