Jennifer Hudson Wants To Join Disney's Live-Action Hercules Movie, And The Role She's Eyeing Is Perfect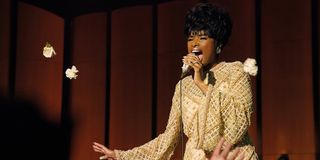 After being personally chosen by Aretha Franklin to play her in Respect, it seems like there's no role that Jennifer Hudson couldn't take on. The Oscar and Grammy winner is so good, she even has us wondering if Cats deserves a second look. So, if she says she wants to join Disney's live-action adaptation of Hercules, we should probably listen to her -- especially since the role she's eyeing seems like a perfect fit.
Jennifer Hudson recently participated in WIRED's Autocomplete Interview, and one of the questions she had to answer was "Who is playing in Hercules?" Though she made it clear she hasn't been cast yet, the actress was quick to explain why she was enthusiastic about the idea:
Jennifer Hudson also revealed that she has an interesting history with Hercules. And that connection could make her a shoo-in for a particular role in the film. She continued:
Now that she's put the idea out into the universe, it's pretty hard to imagine Jennifer Hudson not being cast as one of the Muses. It's also a little surprising that she hasn't had a Disney role yet -- except, of course, for her Disney Cruise gig. With her bright personality, gorgeous singing voice and wide range as an actor, she seems like a perfect fit for the studio.
Jennifer Hudson would be an amazing addition to the Hercules cast -- especially since the Muses have two of the most memorable musical moments in the animated film. But she's not the only star who seems keen on playing one of Hercules' muses. Glee's Amber Riley threw her name into the running as soon as Disney announced the live-action adaptation in 2020. And Lizzo recently gave a nod to a fan on TikTok, who thinks the "Rumors" singer would be perfect for the role of Therpsicore (and took issue with those who had typecast her as Thalia).
Since Hercules was announced in 2020, there hasn't been much news regarding when we'll actually get to see it. Directors Joe and Anthony Russo admitted in February that they're still in the early stages of development, so that's good news for Jennifer Hudson, Amber Riley, Lizzo, and anyone else hoping to join the Hercules cast.
Your Daily Blend of Entertainment News
Thank you for signing up to CinemaBlend. You will receive a verification email shortly.
There was a problem. Please refresh the page and try again.