F9's Tyrese Gibson Talks Losing Roles To Terrence Howard Over Skin Complexion, Credits Lupita Nyong'o And Viola Davis For Change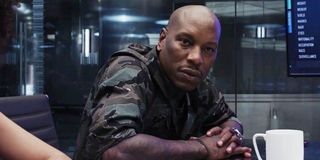 Most would agree that Tyrese Gibson has had an incredibly successful career. The entertainment veteran originally started his career in the music industry before making the jump to film and television. In the years since, the actor has landed roles in some high-profile productions, yet his journey hasn't been perfect. He's earned plenty of roles in his time, but he's also lost some, which Gibson partially attributes to his skin complexion. Now, Gibson is getting candid about his experiences as a dark-skinned man in Hollywood and losing out on opportunities to actors like Terrence Howard. He's also crediting stars like Lupita Nyong'o and Viola Davis for helping to ring in a wave of change.
Actors have varied experiences in Hollywood for a myriad of reasons, ranging from their age and gender to their race and sexual orientation. Over the past few decades, Tyrese Gibson appears to have seen the ups and downs that come with being a dark-skinned actor. While speaking with The Lemonade Stand, Gibson illustrated his point by reflecting on his pre-Hollywood life and describing an experience with Terrence Howard, who he recently worked with one the upcoming film, The System:
What Tyrese Gibson is referring to is the top of colorism, an inherent bias against people with darker skin tones. It's been a major topic of discussion in the entertainment industry, particularly over the past several years. And what's particularly sad about colorism is that much of the prejudice can come from people of the same ethnic group, which seems to line up with Gibson's own experiences.
Most would agree that there's still plenty of work to be done when it comes to colorism, but progress is gradually being made. Tyrese Gibson explained that he sees certain A-list stars as examples of how Hollywood is starting to embrace artists with darker skin tones:
It's true that Viola Davis and Lupita Nyong'o have been shining examples of dark-skinned actors who are thriving in the Hollywood landscape. Their Oscars and massive film credits are a testament to that. But Tyrese Gibson has also served as a beacon of hope in this regard. He has, after all, had roles in some of the highest grossing franchises of all time (Transformers and Fast & Furious), and he continues to work on a consistent basis.
One can't help but appreciate Tyrese Gibson's candor on the subject of colorism and how it relates to Hollywood. Hopefully, discussions like these become more commonplace and ultimately serve as a small step in sparking some change in the entertainment world.
Covering superheroes, sci-fi, comedy, and almost anything else in film and TV. I eat more pizza than the Teenage Mutant Ninja Turtles.
Your Daily Blend of Entertainment News
Thank you for signing up to CinemaBlend. You will receive a verification email shortly.
There was a problem. Please refresh the page and try again.