Why The Fresh Prince Of Bel-Air's Original Aunt Viv Was A 'Spotlight' On Representation For One Of Her Co-Stars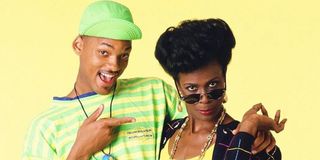 The Fresh Prince of Bel-Air has been a cultural phenomenon since it first premiered on our TV screens in 1990. The NBC sitcom not only served as a starring vehicle for Will Smith, but it also gave households across the country a look at a loving and financially stable Black family. Part of that household was Vivian Banks, a sweet, but stern, college professor. The role was originated by Janet Hubert, who controversially departed the series in 1993. Hubert's performance is still widely loved by fans, but it was particularly important to co-star Tatyana Ali, who viewed Hubert as a "spotlight" for representation.
Tatyana Ali was only 11 years old when she was cast as Ashley Banks on The Fresh Prince of Bel-Air, but she had plenty of co-stars to look up to like Karyn Parsons and the late James Avery. But Janet Hubert was particularly influential in her formative years, as her performance on Fresh Prince marked one of the few times Ali had gotten to see a dark-skinned woman shining in such a complex role. Following the recent reunion, the actress explained what Hubert means to her:
Tatyana Ali's sentiments to Clay Cane on Sirius XM beautifully sum up the far-reaching impact of Janet Hubert's performance on The Fresh Prince. It's crazy to say but, even in the '90s, Black actresses (especially those who are dark-skinned) were rarely offered characters like Vivian Banks.
Representation is a powerful thing, as it can mean a great deal to viewers to be able to see someone like themselves on screen. In Tatyana Ali's case, she got to see this first hand, and it's stayed with her throughout the course of her career.
As Ali mentioned, Hubert went through a lot after her highly publicized Fresh Prince exit. At the time, reports inaccurately claimed she had been fired when she had actually departed over an unsatisfactory contract extension. Claims of her being difficult to work with would unfortunately damage her career, resulting in a scarce amount of work for her in the years that followed.
Thankfully, after The Fresh Prince of Bel-Air Reunion, the love for Janet Hubert is at an all-time high, as the special gave the actress the opportunity to tell her story. The event also saw her reconcile with co-star Will Smith, after the two went 27 years without speaking to each other. Their candid conversation made for one of the most emotional segments of the reunion.
Hollywood is slowly but surely taking greater steps when it comes to representation and, hopefully, things will continue to improve. But as we move forward, let's definitely not forget to honor stars like Janet Hubert, who truly helped blaze trails for new generations of performers.
You can check out Janet Hubert's work on The Fresh Prince of Bel-Air by streaming it on HBO Max.
Covering superheroes, sci-fi, comedy, and almost anything else in film and TV. I eat more pizza than the Teenage Mutant Ninja Turtles.