12 Great Documentaries To Steam On Hulu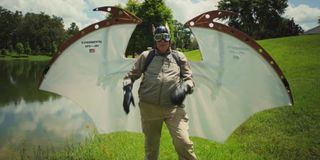 CinemaBlend participates in affiliate programs with various companies. We may earn a commission when you click on or make purchases via links.
There are plenty of reasons to sign up for Hulu, from the streaming platform's series like The Handmaid's Tale and Pen15, to its list of original movies that include Palm Springs and Happiest Season. On top of all of that, there are also dozens upon dozens of great documentaries on Hulu with everything from originals like Minding the Gap and Kid90 to modern classics from the likes of Werner Herzog and Louis Theroux, two of the most prolific living documentarians of our time. To help you decide which documentaries are worth watching, we've put together a dozen options with topics ranging from a flashy retirement home in Florida to the true story behind the creation of Batman, and so much more.
Kid90 (2021)
Today, we capture every moment of our lives and display them all over our social media channels, but the act of filming your life was once a novel (and expensive) idea. Child actor and star of Punky Brewster, Soleil Moon Frye did just that throughout much of her life, capturing hundreds of hours of footage that she has since edited and turned into the time capsule of the early 1990s that is Kid90.
This intimate and eye-opening documentary contains personal home movies and answering machine messages that tell the story of Moon Frye's experiences as she grew from a child actor to a young woman trying to find her place in the world. The 2021 documentary also features rare footage of the likes of Leonardo DiCaprio, Jenny Lewis, and Charlie Sheen to name only a few.
Stream Kid90 on Hulu. (opens in new tab)
Three Identical Strangers (2018)
Tim Wardle's 2018 documentary, Three Identical Strangers, tells the remarkable story of Edward Galland, David Kellman, and Robert Shafran, three identical brothers who were separated at birth and went on to live completely different lives. Through archival footage and new interviews, Three Identical Strangers documents how the triplets discovered one another as young adults and the impact it had on their lives.
Over the course of this, at times, unsettling documentary, you learn the real reason behind a New York City adoption agency's decision to split up the three brothers at birth and how the revelations of that decision had ramifications on the boys, their adoptive parents, and everyone else involved in the strange experiment.
Stream Three Identical Strangers on Hulu. (opens in new tab)
Minding The Gap (2018)
On the surface, Minding the Gap is a documentary about three teenage friends who find a common bond through their love of skateboarding, but director Bing Liu's Academy Award-nominated film is about so much more than that. Filmed over the course of 12 years, Liu explores how the sport helped bring him closer to childhood friends Keire Johnson and Zack Mulligan.
This personal look at three lives in Rockford, Illinois, also touches on childhood abuse, becoming a parent when you're still a child yourself, racism, and trying to figure out if you should put your dream on a shelf to die, or sacrifice everything else to make it a reality.
Stream Minding the Gap on Hulu. (opens in new tab)
Totally Under Control (2020)
Released in October 2020, Alex Gibney's scathing documentary, Totally Under Control, dissects the US response to the COVID-19 pandemic and tries to learn if the hundreds of thousands of American lives lost could have been prevented. With interviews with nurses, doctors, and researchers on the front line of the public health crisis, and public officials who tried to come up with solutions, this engaging and at times frustrating documentary attempts to get to the bottom of that story.
And, while it is more political than other COVID-19 documentaries that have come out since the start of the pandemic, Totally Under Control does a brilliant job of documenting the chaos of those first few months.
Stream Totally Under Control on Hulu. (opens in new tab)
My Scientology Movie (2015)
Throughout his career as a documentarian and broadcast journalist, Louis Theroux has put himself in some insane and at times terrifying situations, involving everyone from the members of the Westboro Baptist Church to white supremacists and Las Vegas gamblers. In 2015, Theroux wrote and starred in one of his most intense productions yet — My Scientology Movie.
When the church refused to cooperate (as expected), Theroux teams up with former Scientology official Mark Rathbun, who helps recreate the pivotal moments of the church and its most prominent figures, including David Miscavige. But, this is only the beginning, as the church quickly begins filming Theroux, Rathbun, and director John Dower, who are all confronted by the infamous "Squirrel Buster" team in the process.
Stream My Scientology Movie on Hulu. (opens in new tab)
Jesus Camp (2006)
The 2006 Oscar-nominated documentary Jesus Camp spends a summer with the Kids on Fire School of Ministry youth summer camp in rural North Dakota, where filmmakers Heidi Ewing and Rachel Grady capture the various programs young children go through to strengthen their beliefs. This enlightening film jumps between several of the young campers who spend their summers at Kids on Fire as well as Becky Fischer, the camp's founder whose mission in life is to indoctrinate the campers in Christian values.
Throughout Jesus Camp, the members of the camp — both young and old — are seen speaking out against the evil of Harry Potter, praying for then-President of the United States George W. Bush, and arguing in favor of their practices during discussions with other members of the Christian faith.
Stream Jesus Camp on Hulu. (opens in new tab)
The Orange Years: The Nickelodeon Story (2018)
Throughout the 1990s, there was no bigger voice in the world of children's television than that of Nickelodeon. With everything from game shows (Double Dare) to sketch comedy (All That), and animation (Rugrats) to light horror (Are You Afraid of the Dark?), the cable network had a little bit of everything for everyone.
The 2018 documentary The Orange Years: The Nickelodeon Story provides for an entertaining and at times emotional journey through nostalgia, looking at the network's biggest moments, on-screen personalities, and how they impacted the lives of hundreds of millions of kids over the years. Just watch out for that iconic slime…
Stream The Orange Years: The Nickelodeon Story on Hulu. (opens in new tab)
Batman And Bill (2017)
For the long time, everyone outside of die-hard comic book fans was under the impression that Bob Kane was the sole creator of Batman, considering the writer and artist's name was displayed in the opening credits of every one of the Caped Crusader's movies, and TV series (both live-action and animated). The 2017 Hulu documentary Batman and Bill exposes that misconnection and attempts to right the wrongs experienced by Bill Finger, the uncredited co-creator of one of the comic world's most iconic characters.
Told through a combination of interviews with notable comic book writers, publishers, and fans and animations that look like something out of an old issue of Detective Comics, Batman and Bill tells the story of Bill Finger's struggles in life as well as the crusade by his family and supporters to be recognized for his contributions in the decades following his 1974 death.
Stream Batman and Bill on Hulu. (opens in new tab)
Some Kind Of Heaven (2021)
From the outside looking in, The Villages retirement community located in Central Florida is a paradise for the elderly that has anything and everything anyone would need in life. As we have come to know about every other "Heaven on Earth," though, nothing is ever as great as it seems. Lance Oppenheim's 2021 documentary, Some Kind of Heaven, spends a considerable amount of time with the residents of this one-of-a-kind community where the filmmaker gets to know them and hear their stories, uncovering some insane truths along the way.
Stream Some Kind of Heaven on Hulu. (opens in new tab)
Too Funny To Fail: The Life And Death Of The Dana Carvey Show (2017)
It is easy to see why Dana Carvey and Robert Smigel thought The Dana Carvey Show would have been roaring success when it debuted on ABC in the spring of 1996, but, sadly, that was far from the case. The rise and quick fall of the show is explored in great detail in the 2017 Hulu documentary Too Funny to Fail: The Life and Death of the Dana Carvey Show, with extensive interviews with the major players behind the scenes of the sketch comedy program, including Steve Carell, Stephen Colbert, and Carvey himself.
From the show's early days to the hiring of some of the era's best writers including Louis C.K. and Charlie Kaufman, to the assembling of the cast and its cancellation partway through the first season, Too Funny to Fail leaves no stone unturned, no matter how much sorrow lies underneath.
Stream Too Funny to Fail: The Life and Death of the Dana Carvey Show on Hulu. (opens in new tab)
Dumb: The Story Of Big Brother Magazine (2017)
Years and years before Jackass Forever was even a glimmer in the eyes of Johnny Knoxville and Jeff Tremaine, there was Big Brother, a skateboarding magazine that not only helped spread the sport's culture and lifestyle with millions of readers around the world, but also helped create one of the most iconic TV and film series of the 21st Century.
The 2017 Hulu Documentary Dumb: The Story of Big Brother Magazine tells the full and unfiltered history of the influential magazine, including its meteoric rise in the mid-1990s to its final issue in 2004 and everything in between.
Stream Dumb: The Story of Big Brother Magazine on Hulu. (opens in new tab)
Lo And Behold: Reveries Of The Connected World (2016)
You can't have a list of great documentaries on a streaming service without including at least one entry from Werner Herzog's expansive library of non-fiction films. This time around we have Lo and Behold: Reveries of the Connected World, which follows the eccentric filmmaker as he explores the internet from its humble beginnings to the all-encompassing monster it has become in today's society.
Told through interviews with the researchers who helped create the internet decades ago and people who have made the decision to live in small communities far away from the closest cell phone tower, Lo and Behold touches on a wide array of topics dealing with our love and dependency on the internet.
Stream Lo and Behold: Reveries of the Connected World on Hulu. (opens in new tab)
This is just a small sampling of the great documentaries on Hulu and doesn't even begin to touch on all the amazing docuseries that call the streaming service home. If you want to know what other documentaries (and narrative films) you can expect to see the final months of the year, check out our list of 2021 movies.
Philip grew up in Louisiana (not New Orleans) before moving to St. Louis after graduating from Louisiana State University-Shreveport. When he's not writing about movies or television, Philip can be found being chased by his three kids, telling his dogs to stop yelling at the mailman, or yelling about professional wrestling to his wife. If the stars properly align, he will talk about For Love Of The Game being the best baseball movie of all time.
Your Daily Blend of Entertainment News
Thank you for signing up to CinemaBlend. You will receive a verification email shortly.
There was a problem. Please refresh the page and try again.