Will Quentin Tarantino's Last Movie Be Star Trek? The Director Talks About A 'Loophole'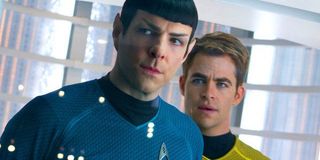 Quentin Tarantino fans are largely aware of the director's plans to "retire" from filmmaking after his tenth film. At the same time, they seem intrigued by this story that Tarantino has a Star Trek script that he has pitched to J.J. Abrams and Bad Robot, with designs to possibly direct, if it were to move forward. Would Tarantino actually want to end his illustrious career on a Star Trek movie?
We asked Quentin Tarantino that very same question when he appeared on the ReelBlend Podcast to discuss Once Upon a Time in Hollywood – his ninth film, due in theaters on July 26. We will run the full interview closer to the release of Once, but wanted you to hear Tarantino's thoughts on his 10-film plan, Star Trek, and how those concepts could collide:
The minute that Quentin Tarantino mentioned a "loophole," we sat up and paid closer attention. Because this concept of retiring after directing 10 films was created by Tarantino himself, and so if anyone was going to change the "rules" of this self-imposed game, it could and would be him.
The way he describes it, actually makes sense, with Quentin Tarantino elaborating:
Eight of the nine films directed by Quentin Tarantino up until this point have been original works that were written as unique materials for the filmmaker to explore. Only his third film, Jackie Brown, was adapted (by Tarantino) from an existing Elmore Leonard novel. Tarantino takes pride in creating his own screenplays, writing them out in long-form handwritten notes on large note pads (if legends are to be believed).
So deciding to play in an existing franchise like Star Trek, especially for his 10th and final film, strikes us as odd. Wouldn't Tarantino want to ensure that his final movie was as groundbreaking, boundary pushing and wildly original as all of the films that he has delivered up until this point, from Django Unchained and Pulp Fiction to the two Kill Bill movies?
Well, according to Tarantino, the answer is yes… and no. He agrees that the self-proclaimed "loophole" could allow him to do a Star Trek screenplay, and still call his last movie his tenth and final film. But if he were to make Star Trek his last film, that wouldn't be bad, because he could use it to explore an alternate path for his career… what might have been if he chased adaptations and franchises over original work.
As he explains, on the ReelBlend podcast:
Now that's interesting. Clearly, from the moment he burst on the scene with Reservoir Dogs, Quentin Tarantino has predominantly worked on his own original projects. Yes, he wrote the screenplay for True Romance, which the late Tony Scott directed. But Quentin's fingerprints have been all over his projects, making them uniquely his own.
However, it's fascinating to learn that there's an aspect to his career that he's mildly interested in exploring, where he would use his tenth and potentially final movie to be a franchise film like Star Trek, and use it to explore what it might have been like for him in Hollywood had he chosen to go down the hired-gun path.
There are countless directors who rely on screenwriters to deliver them worthy material. Everyone from Steven Spielberg to Martin Scorsese uses trusted scripters to deliver them words, and these iconic directors provide the imagery. Then there are the auteurs like Paul Thomas Anderson, who work on their own scripts, and don't work until they have a screenplay ready.
But what if Tarantino directed other people's screenplays? Perhaps he'd have a lot more than 9 movies to his name. He'd have less control over the content. But he'd have more works for his fans to analyze and enjoy, and that has to be weighing in the back of his mind as he contemplates retirement and inches closer to that final film.
Tarantino isn't done yet – not by any stretch. His upcoming film, Once Upon a Time in Hollywood, provides the type of commentary and insight into the film and entertainment industry that only Tarantino can. Leonardo DiCaprio plays Rick, a fading character actor who's had success in the Westerns who sees the landscape changing, and moving on without him.
At the same time, Rick has a trusted stuntman named Cliff (Brad Pitt), who exists outside of the industry and sees Los Angeles changing beneath his feet in the year 1969. Hippies fill the streets, and Charles Manson's shadow looms large over L.A. How will both men adapt to these new surroundings?
We will have our full interview with Quentin Tarantino on the ReelBlend podcast closer to the release of Once Upon a Time in Hollywood. The movie opens everywhere on July 26.
Your Daily Blend of Entertainment News
Sean O'Connell is a journalist and CinemaBlend's Managing Editor. He's frequently found on Twitter at @Sean_OConnell. ReelBlend cohost. A movie junkie who's Infatuated with comic-book films. Helped get the Snyder Cut released, then wrote a book about it.