14 Touching Celebrity Reactions To Bruce Jenner's Interview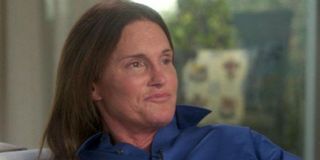 Last night the highly anticipated 20/20 special Bruce Jenner: The Interview happened and our questions about the Olympian-turned-reality TV star were finally answered. After a long sit down with Diane Sawyer, Jenner opened up about the difficult realities he came to face throughout his life. Jenner talked about his struggle with accepting himself, and told Sawyer that "For all intents and purposes, I am a woman." His coming out was also used in the special as a way to educate viewers about gender identity and transgender hardships in society. The tell-all segment was incredibly enlightening and though not all are fans of the reality show that he was apart of, the Keeping Up With The Kardashians show did create a podium in which he could be heard. During the interview, Jenner admits:
The brave and telling interview took serious strength, and celebrities from all different mediums (sports, music, tv, film) took to Twitter to thank Jenner for his message, and admire what the interview aims to spread. According to People, there was a record 972,000 Tweets from 403,000 unique authors in response to the interview, making it the most social Friday telecast of all time (excluding sports games). So here we've collected a few of the more touching tributes to Bruce Jenner.
Kris Jenner was particularly impressed with Jenner's strength.
His stepdaughter, Kim Kardashian shared a lovely quote on Instagram on his behalf.
Lady Gaga shared her own excitement for this opportunity to empower people all around the world.
Ellen DeGeneres sent her love to Jenner, for his powerful voice.
Star Trek alum, George Takei admired Jenner for his courage and humanity.
Ariana Grande spread the message that the world needs to become a non-judgemental place.
Questlove admired Jenner's bravery, but also called the interview a revelation.
Lena Dunham went above and beyond, writing a heartfelt note thanking Jenner and all that this interview will do for the world.
Busy Philipps shared a touching Shakespeare quote to go along with the message.
Of course, Oprah Winfrey knew the perfect thing to say.
Mario Lopez puts the battle into perspective.
Victoria Justice proves this message will be spread throughout generations.
Jenner taught us and Billie Jean King to be our own authentic selves.
And Rob Lowe showed deep pride, and reminded us that some have to fight harder.
Your Daily Blend of Entertainment News
Thank you for signing up to CinemaBlend. You will receive a verification email shortly.
There was a problem. Please refresh the page and try again.