Three Harry Potter eBooks Are On The Way, Here's What We Know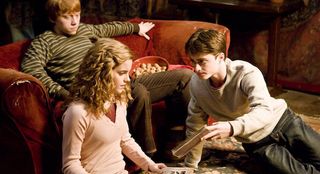 Harry Potter author J.K. Rowling went on record recently claiming that she's done with Harry's story for the time being, but we were pretty sure that didn't mean she was abandoning the universe altogether. Sure enough, new writings about her magical world are on the way, courtesy of Pottermore Presents. The stories will be released soon and in eBook format this time around.
Pottermore is describing their Pottermore Presents series a set of eBook shorts or "bite-sized eBooks," which delve back into the Harry Potter world. From the sound of it, we'll be getting a mixture of "archive" content (presumably essays previously published on the Pottermore website) and original works from Rowling herself. Amazon and Barnes & Noble already have them available for pre-order for $2.99 a piece. They will be available in a variety of languages on September 6.
Here are the three titles, along with a few details Pottermore has given about each...
This one is said to explore the "darker roots of the wizarding world," and will including background information on the horrors of Azkaban prison, as well as issues the Ministry of Magic has had to deal with.
What's New? An article about potions professor Horace Slughorn. Speculation: Given old Sluggy's penchant for befriending up-and-comers, it should be interesting to learn more about him, and perhaps who he's associated with over the years.
This one focuses on the Hogwarts staff, including information about Care of Magical Creatures teacher Silvanus Kettleburn.
What's new? A new essay about the Transfiguration Professor-turned-Hogwarts Headmaster, Minerva McGonagall. It will specifically focus on her involvement in the second wizarding war.
As the title suggests, this one focuses on the wizarding school, including information about the ghosts that roam the corridors, and some interesting facts about the Sorting Hat.
What's New? Pottermore doesn't mention anything new about this one. And I'm guessing that Sorting Hat info will be the Hatstall essay that came out last year.
Is this really the best way to release new content?
First, because it needs to be said, I will always be excited about new Harry Potter information from J.K. Rowling. And I love the titles, and the covers (credit to Miraphora Mina and Eduardo Lima!) of these new eBooks. But, to be completely honest, I'm not sure I like this particular method of distribution. At the very least, I'd be a lot more interested in the idea of a series of eBooks if all of the writing in each one were brand new. Instead, it sounds like what we're getting here is a mixture of content we've already read, and what I'm guessing will be a few (or a handful at most?) new writings mixed in, which makes the older stuff feel a bit like filler around the new content. That is, assuming there's more "archive" content than there is new writing.
And to be fair, I wouldn't fault Pottermore if the main reason behind "Pottermore Presents" is to make some money. After all, the site has been free since it launched years ago, and I don't think I've ever seen advertisements on it at any point. In terms of ways Pottermore could have been turning any kind of profit in the past, the original series in eBook and audiobook were once mostly exclusively available for purchase on the site, but that's no longer the case (you can still buy them at Pottermore, but they're also available at other eBook/Audiobook distributors). J.K. Rowling's post-series essays have always been available for free, even back when you needed a login to get to them.
Given how much original content Pottermore has published over the years, it's not unreasonable that they might be looking for ways to redistribute it and monetize. I just don't think I love this eBook strategy. (I reserve the right to take that back once the eBooks come out.)
Wishful thinking...
I would be intrigued by the idea of a subscription service where, for the monthly cost of a few bucks, old and new essays are released each month (distributed individually, and compatible with the popular eBook formats). That way, hardcore fans like me could subscribe with the intent to eventually collect the entire Pottermore library of essays on our eReaders (where we can reference and search through them as easily as we can the original books, and have access to all of the content offline).
And then, every once in a while, maybe a hardcover volume could be made available to purchase, for those of us who need the physical books. A History of Magic Vols. 1-infinity? Where's my wallet. But that's just wishful thinking, at least for now. And if these three eBooks are just the first in a series of Pottermore Presents shorts, perhaps we will be able to collect all of these writings after all. We'll have to wait and see. In the meantime, these eBooks give us a bit more to look forward to, along with the arrival of Fantastic Beasts and Where To Find Them, which hits theaters this November.
Assistant Managing Editor
Kelly joined CinemaBlend as a freelance TV news writer in 2006 and went on to serve as the site's TV Editor before moving over to other roles on the site. At present, she's an Assistant Managing Editor who spends much of her time brainstorming and editing feature content on the site.
Your Daily Blend of Entertainment News
Thank you for signing up to CinemaBlend. You will receive a verification email shortly.
There was a problem. Please refresh the page and try again.