Justin Timberlake Is Set To Rock Netflix This Fall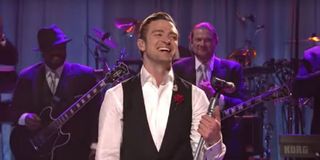 Justin Timberlake is bringing his most successful tour to date straight to your TV screens... or laptop screens.... whatever you use to watch Netflix! The streaming giant has acquired the rights to the performance film Justin Timberlake + The Tennessee Kids, which showcases the final night of Timberlake's two-year 20/20 Experience World Tour.
Before being released wide, the concert film will premiere at the Toronto Film Festival this Tuesday. You can expect to see JT pop up on your Netflix queue about a month later, on October 12. You can check out the teaser video for the concert movie below.
Justin Timberlake + The Tennessee Kids comes from famed director Jonathan Demme (Silence of the Lambs, Philadelphia), who shot footage of Justin Timberlake and his band's last tour performance at the MGM Grand Garden Arena in Las Vegas on January 2, 2015. The show concluded a tour that Timberlake had begun back in 2013 following the releases of the two sides of his double album The 20/20 Experience Part 1 and Part 2, which sprung hit singles such as "Mirrors" and "Take Back the Night." The dual albums and subsequent tour served as the introduction of Timberlake's big-band orchestra The Tennessee Kids, named after Timberlake's home state. The horn-heavy band a doo-wop influenced background vocals harkened back to the big band era, adding to the throwback sound of Timberlake's 20/20 Experience era.
The 20/20 Experience World Tour became Justin Timberlake's highest-grossing tour ever, and one of the most successful tours of the past decade. It also made Timberlake the highest-grossing touring artist of 2014. Back when the tour began, Timberlake was pretty much everywhere, having just reunited with NSYNC on the VMA stage and coming off a successful fifth time hosting Saturday Night Live.
For the past few years, Justin Timberlake has been busy with his two-year tour, which was followed immediately by the birth of his son Silas with wife Jessica Biel in early 2015. But now, he's back in the spotlight and releasing new music again, like the possible song of the summer winner "Can't Stop the Feeling," and lending his voice to the upcoming animated movie Trolls. Timberlake is also set to star in an upcoming Woody Allen film, and has teased that he's working on his fifth studio album, although noting that it's "so in its infancy right now."
Justin Timberlake + The Tennessee Kids will begin streaming on Netflix on Wednesday, October 12.
Your Daily Blend of Entertainment News
Your Daily Blend of Entertainment News
Thank you for signing up to CinemaBlend. You will receive a verification email shortly.
There was a problem. Please refresh the page and try again.