Lady Gaga's Perfect Illusion Is Kind Of A Let Down, Listen To The Full Song Here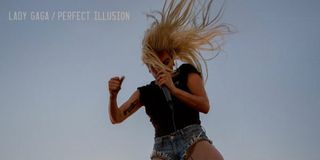 (Image credit: Twitter)
Are your paws up or are you hitting pause on "Perfect Illusion," Lady Gaga's long-awaited return to pop music? The singer put out her first pop single in three years on Friday after spending weeks hyping it, but the ridiculously high expectations from fans might have hurt the single more than help it.
In "Perfect Illusion," Lady Gaga screams about a mistaken love over a driving drum beat and '80s synth guitars. An homage to arena rock, the song is ferociously catchy with a ton of windows-down, sing-along potential, but was it worth the wait? For the past three years, fans have had to settle for the subdued musical stylings of Gaga, as she released a jazz standards album with Tony Bennett and the Grammy-nominated ballad "Til It Happens to You," and have had to watch her focus on her acting career instead of music. All of these more straight-faced, prestige projects have been lauded with numerous accolades, but many of her fans spent the time praying for another fun, high-energy pop song, and the years of waiting built the expectations for a comeback single to an impossibly high level.
To build the "Perfect Illusion" expectations even more, before the three years away from pop music, Gaga's last solo album wasn't totally beloved by music critics or even Lady Gaga's fans. Though 2013's Artpop spawned the hit single "Applause," many people dinged the album for being unfocused and forgettable, a step down from the critically adored first two albums from Gaga. So the pressure was on "Perfect Illusion" to deliver the mother of all comebacks. Did it?
What "Perfect Illusion" has in a fresh, rock-inspired sound, it loses in complexity. The two verses are incredibly short, and the bridge is merely a brief background whisper, which turns the track into pretty much one full chorus. Of course, Lady Gaga and every over major pop artist knows to rely heavily on a strong, booming chorus, but those choruses usually contain more than just two lines repeated over an over again. "It wasn't love, it wasn't love, it was a perfect illusion" is pretty much the whole song, and that repetition paired with scream-y vocals and a noisy beat gets pretty overwhelming.
The new track actually harkens back to "Edge of Glory" a bit, another Lady Gaga single with an arena rock flair and raucous chorus, but its composition just doesn't quite get up to the level of the Born This Way cut.
All in all, I feel that "Perfect Illusion" is a fun and catchy song that unfortunately pales after having to live up to the pressure of an impossible amount of hype and expectation. But although it's overhyped, it's still a cause for celebration --- Lady Gaga is back! At the very beginning of 2016, she teased that her new album would be released before the end of the year. With just a few months of 2016 left, let's hope that's still the plan, and that her next single will have some more substance.
Your Daily Blend of Entertainment News