Mark Wahlberg Did A Dad-Rap, And His Daughter Looks Adorably Mortified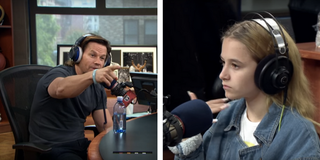 Believe it or not, there was once a time when Mark Wahlberg was one of the most recognizable rappers in the world. It's something that most people forget, ever since the artist formerly known as Marky Mark became an A-list movie star. Apparently, Wahlberg also forgot that he was a rapper. He dropped a few bars on a radio show on Wednesday, and his lazy flow was called out by his own daughter. Watch it below...
Mark Wahlberg stopped by The Dan Patrick Show with his 13-year-old daughter Ella Wahlberg to promote his upcoming movie Deepwater Horizon. Before too much talk about Wahlberg's future plans, though, Ella took it upon herself to remind her father of his past. She requested that her dad take it back to his Marky Mark days and spit a few rhymes --- a request that she would almost immediately regret.
Mark Wahlberg took the opportunity to go into full dad mode and rap about punishing his daughter. Earlier in the show, Wahlberg told the host that he had taken Ella's cell phone away recently as a punishment, and that was clearly still on the actor's mind as he let loose a slow, monotone rap about spanking her.
Immediately, Ella's face dropped and she spoke for all of us when she signaled for her father to stop embarrassing himself. Sorry Funky Bunch, but it looks like Marky Mark might be gone for good.
Deepwater Horizon hits theaters September 30. More information about Mark Wahlberg's upcoming new movie (including the intense trailer!) can be found here.
Your Daily Blend of Entertainment News
Your Daily Blend of Entertainment News
Thank you for signing up to CinemaBlend. You will receive a verification email shortly.
There was a problem. Please refresh the page and try again.