Adam Levine's Newborn Daughter Has An Unusual Name, But I Kind Of Love It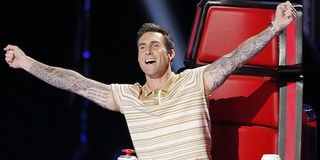 (Image credit: The Voice)
Adam Levine and his supermodel wife Behati Prinsloo's newborn daughter is sure to stand out from the crowd with the unique name that the couple has chosen for her. The new celebrity parents welcomed their firstborn child on Thursday, and named her Dusty Rose Levine.
Since the newborn's name was confirmed to E! News by a rep for Adam Levine's band Maroon 5, the name has received mixed speculation from fans as to why they went with that name. Some, such as comedian Jensen Karp, have pointed out that the name Dusty Rose sounds an awful lot like the name of three-time National Wrestling Alliance Heavyweight Champion Dusty Rhodes. But given that neither Levine or Prinsloo have ever spoken about being wrestling diehards, this is pretty certainly just a humorous coincidence.
But there's another famous person whom the couple is more likely to be honoring with their daughter's name. Given that Adam Levine is a popular singer, the first person that comes to mind when hearing the name Dusty would be Dusty Springfield, the woman credited with popularizing blue-eyed soul throughout the '60s. Though I haven't been able to find any record of Levine citing Springfield as an influence in his career as a musician, his work with Maroon 5 does have a similarly soul-infused pop sound to that of the late British singer.
Or maybe Levine and Prinsloo aren't honoring anyone, and are just being a bit colorful with their daughter's name. Many consider "Dusty Rose" to be a color, akin to a faint pink. In a bizarre stroke of prescience, the popular photo site Shutterstock actually tweeted a gallery devoted to "the muted beauty of dusty rose" earlier this month. If Levine and Prinsloo did name their daughter after a color, Dusty Rose is definitely one of the better choices (maybe their next kid can be named Burnt Sienna Levine).
Adam Levine first met and started dating Namibian Victoria's Secret model Behati Prinsloo in 2012, just a month after he ended a relationship with another supermodel. But Levine's relationship with Prinsloo stuck, and the pair got married two years later in 2014. Dusty Rose is the couple's first child together.
No matter the reason behind her name, Dusty Rose Levine can be sure of one thing: she will be loved. Cue the music!
Your Daily Blend of Entertainment News