Watch Britney Spears' Kids Scare The Crap Out Of Her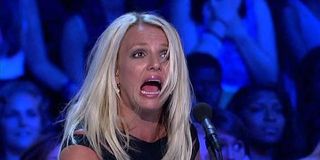 Britney Spears sure lived up to the name of her song "Scream and Shout" this weekend, thanks to her two sons. The superstar's preteen kids, Sean Preston Federline and Jayden James Federline, took their mother's phone to record her hilariously terrified reaction when Sean jumps out of nowhere and screams at her...
The unsuspecting Britney Spears is walking around her home in a white nightgown when her sun jumps out at her. Immediately, she lets loose a horrified scream and falls to the floor. When she realizes her son was behind the prank, she yells out "Sean Preston!" It looks like Spears managed to find the humor in the clip, as she posted it to her Instagram with a laughing emoji and the caption, "My damn kids."
Spooks aside, September is a big month for Britney Spears and her sons. A couple of weeks back, both Sean Preston and Jayden James celebrated birthdays just two days apart --- Jayden turned 10 on Sept. 12 and Sean turned 11 on Sept. 14. The Spears clan celebrated the two big days with a joint birthday party themed after one of Sean and Jayden's favorite things: Pokémon! Both of Spears' sons are passionate about Japanese anime, as evidenced by multiple pieces of their artwork that Spears shares on her Instagram.
One glance at Britney Spears' Instagram account and it's clear that she cares deeply for her sons and spends much of her time playing with them, but there was a period where she couldn't be around them as much as she would've liked. Spears gave birth to Sean and Jayden during her three-year marriage to their father Kevin Federline. After their divorce, Spears and Federline entered a heated custody battle for their sons, which wound up going in Federline's favor.
Kevin Federline won full custody of Sean and Jayden and Britney Spears got visitation rights. This set-up lasted for about eight years, until Billboard wrote subtly in their March 2015 cover story that Spears has regained permanent custody of her sons. Federline is now married to former volleyball player Victoria Prince, with whom he has two daughters.
Given how much Britney Spears loves having fun with her sons, you can be sure to expect more silliness with Sean Preston and Jayden James to come. Especially since Spears has promised to get them back for the prank!
Here's another glimpse of family life from an Instagram post Britney did a few weeks ago...
Your Daily Blend of Entertainment News