Watch Katy Perry Get Naked To Vote In Funny Video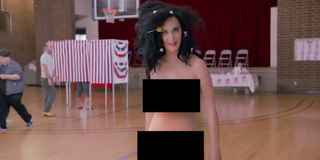 Katy Perry has used her voice to get involved with the 2016 presidential election for quite some time now, but on Tuesday she decided to take it a step further and use her whole body. The superstar singer teamed up with Will Ferrell's viral comedy site Funny Or Die and Rock the Vote for a brief clip in which Perry encourages viewers to go to the polls this November, even if they show up naked.
In the video, Katy Perry rolls out of bed with messy, unkempt hair that has popcorn and lollipops stuck to it --- a look that harkens back to her "Last Friday Night" alter-ego Kathy Beth Terry. Perry goes on to explain that from her brief scanning of the Constitution, voters can arrive at the polls in whatever they sleep in, which includes the nude. Unfortunately, the singer stands corrected on that last point, and is arrested alongside comedian Joel McHale, who also appears for a naked cameo.
The video is the latest project Katy Perry has been a part of in relation to the 2016 election. Since Hillary Clinton announced her candidacy for president, Perry has been a vocal supporter. Clinton included Perry's inspirational hit "Roar" on her campaign playlist, and it became one of the songs most associated with the Clinton campaign. Katy Perry popped up at some of Clinton's rallies and benefits to perform the song, and performed it along with her latest single "Rise" in support of Clinton at the Democratic National Convention this summer. And during Clinton and Trump's first live debate on Monday night, Perry communicated her confidence in Clinton's abilities through various tweets.
Katy Perry's video is the latest in a number of celebrity efforts to encourage people to vote in the upcoming election. Before Monday's debate, the cast of Will & Grace reunited for a video where their characters debated which candidate to vote for, and earlier Avengers director Joss Whedon assembled a bevy of famous faces for a PSA to get people to vote.
Currently, Katy Perry is working on her fifth studio album, which will follow up 2013's Prism. This summer, Perry released "Rise" for the 2016 Olympics in Rio de Janeiro, as her first song in three years. Perry told On Air with Ryan Seacrest recently that she is taking her time in making this new record, and that she is working with various producers and trying out different genres.
For right now, though, Katy Perry's main project is to make sure everyone casts their vote for president on November 8th.
Your Daily Blend of Entertainment News
Your Daily Blend of Entertainment News
Thank you for signing up to CinemaBlend. You will receive a verification email shortly.
There was a problem. Please refresh the page and try again.