How The Rock Reacted To A Refreshing Act Of Kindness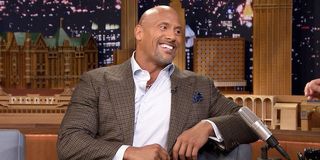 It has been a pretty distressing weekend in terms of celebrity news: Kim Kardashian was robbed at gunpoint, and Lindsay Lohan lost part of her finger. But leave it to Dwayne "The Rock" Johnson to offer up a bright spot of positivity among the calamities. The actor shared a touching story about the kindness of strangers to his Instagram on Sunday. Check out his telling of the story below.
Apparently, Dwayne Johnson was taking his family to a pumpkin patch in rural Hawaii to get into the autumnal spirit. Unfortunately, the normally sleepy town of Waimanalo was actually packed with people this weekend as the local pumpkin patch was holding a large festival. Normally a big festival with rides and games would be a blast, but not if you're one of the most well-recognized actors in Hollywood. Johnson opted to stay in the car so that his 10-month-old daughter Jasmine could fully enjoy the festival without having to wait for daddy to finish signing an endless stream of autographs or pose for countless photos.
However, while Dwayne Johnson was hiding out in his car, the mother and daughter who owned the pumpkin patch knocked on his window to offer him some of their lemonade. Johnson wrote that he was incredibly appreciative of their kindness, and the fact that they did not ask for photos or autographs, but only wanted to share their lemonade.
Dwayne Johnson is currently promoting his upcoming Disney film Moana, which is heavily influenced by Hawaiian culture. Johnson himself spent some years growing up in Hawaii. The movie will also have a strong Hamilton tie-in, as Lin-Manuel Miranda is behind its music and Eliza Schuyler actress Phillipa Soo is lending her voice to a character.
Aside from that, Dwayne Johnson is preparing to take on a number of major blockbuster films in the coming few years. Two of his major franchises are getting sequels next year in Fast 8 and Journey 3: From the Earth to the Moon, and he'll also be at the forefront of two major film reboots as the star of both Baywatch with Zac Efron and Jumanji with Kevin Hart.
And as if all of those major projects weren't enough, Dwayne Johnson is also preparing to get his superhero on in two major comic book adaptations. He was announced as the choice to portray the iconic adventure hero Doc Savage in a reboot by Shane Black, and he'll enter the DC Extended Universe as the supervillain Black Adam in an upcoming Shazam movie.
Phew... I'm tired after just writing all of that. Thankfully Dwayne Johnson can still find some time to relax and enjoy a nice glass of lemonade.
Your Daily Blend of Entertainment News