Beyonce Ripped Out An Earring During A Performance And She Kept On Going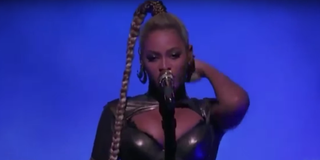 (Image credit: Tidal live video)
Beyonce didn't let a grisly injury "Hold Up" her stellar performance this weekend. The Lemonade singer powered through charity concert performance after she accidentally ripped her earring from her ear and began bleeding.
The incident occurred during Beyonce's performance of her 2013 track "Haunted" at Saturday night's Tidal X: 1015 charity concert. The singer was rocking one long braid on her head, which wound up getting caught in her earring and tearing it off as she performed. Always keeping her composure, Beyonce simply wiped the blood from her ear and continued her performance as if nothing had happened. Entertainment Tonight has the video, below.
Saturday's performance was the second annual Tidal X benefit concert in Brooklyn, which raised money to combat poverty in New York and support education. Beyonce headlined the event, giving one performance in the middle of the setlist and one at the very end. Other notable performers included Nicki Minaj, Alicia Keys, Lauryn Hill, T.I., and DNCE.
Following the news of Beyonce's bloodied ear, a pair of alarming hashtags began trending on Twitter and her (a little too) dedicated fans actually claimed that they were recreating the singer's injury. Diehard members of the Beyhive began uploading photographs of their bleeding ears under the hashtags #cutforbeyonce and #bleedforbeyonce, writing alarming messages like "If the queen bleeds the hive must unify and leak our blood to restore her spirits."
Thankfully, the injury appeared to be very minor, and we can assume Beyonce is quickly healing from the ear injury.
The Tidal X concert was also a huge night for Nicki Minaj, who got to meet one of her biggest idols at the event. Minaj uploaded multiple posts to her Instagram of herself and Lauryn Hill, beginning with a video in which she bows to the legendary rap and R&B icon, and then revealing that she quoted Hill in her high school yearbook.
But the most talked-about star of the night was Beyonce, who performed energetic renditions of her songs "6 Inch," "Haunted," and "All Night" at the charity concert. At the end of her set, Beyonce urged the crowd to vote in the presidential election by giving a stirring speech, saying "Get in formation, use our voices to do something great for our children." Check out her whole speech here.
Your Daily Blend of Entertainment News