Justin Bieber Actually Walked Off Stage When Fans Wouldn't Stop Screaming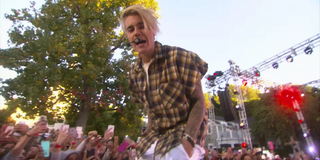 Justin Bieber is seriously fed up with his screaming fans. Less than a week after he took a break in his concert set to ask his fans at a Birmingham show to pipe down so he could talk, the pop star begged for less volume from the guests at yet another of his concerts over the weekend. Check out the full video of Justin Bieber's most recent rant below.
During his show in Manchester on Sunday night, Justin Bieber stopped the music in an attempt to say something to the crowd, but due to screaming, instead began to rant about how he wants his fans to remain quieter between his sets, TMZ reports. Just like at the Birmingham show last Tuesday, the Biebs expressed his disappointment in fans who scream while he is attempting to speak, which was met with boos from the crowd.
But Justin Bieber took this rant to the next level by literally dropping the mic and leaving the stage after fans refused to quiet down. A few minutes later, he returned to the stage to attempt to explain himself better, saying that the screaming inhibits his ability to better connect with the crowd. After that couldn't get the audience to quiet down, Bieber got a bit passive aggressive, saying he just wouldn't talk for the rest of the show since the fans "just can't handle it."
Sunday night's outburst comes less than a week after Justin Bieber did a similar thing at a Birmingham concert on Tuesday night. At that show, Bieber kept his frustration simply to words, rather than leaving the stage as he did on Sunday. The Biebs is currently on a massive world tour to support his album Purpose. The Purpose World Tour is set to wrap up on March of next year in New Zealand, almost exactly one year since he began it. Let's just hope he can make it through all that screaming that's sure to come!
Your Daily Blend of Entertainment News