See Kelly Clarkson Rock A Sia Wig And Belt Out Chandelier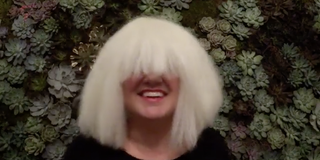 Kelly Clarkson gave her fans no tricks and a wonderful treat this Halloween. The original American Idol winner surprised her fans by popping up on Facebook Live in Sia's signature face-covering blonde wig and launching into a soaring cover of the pop hitmaker's smash "Chandelier." Clarkson showed off her Grammy-winning vocal chops by adding soulful riffs and flourishes to the popular song. Check out the performance below.
After her masterful cover, Kelly Clarkson told viewers that the performance didn't even showcase her voice at its best, and went on to dissect the pros and cons of wearing an eye-covering wig while singing, like Sia does. #SiaStruggles, am I right?
Kelly Clarkson went on to gush about her love for Sia and the song "Chandelier" in particular. She and Sia have worked together previously on Clarkson's fifth studio album Piece By Piece, which was released at the beginning of 2015. Sia helped write two songs for the record: the second single "Invincible" and the uplifting track "Let Your Tears Fall."
Though Kelly Clarkson may not have been able to see during her performance, Sia saw it all very clearly. And she loved it! Sia voiced her approval of the cover via Twitter the morning after Clarkson posted it.
But, Kelly Clarkson wasn't the only one to dress up as Sia for Halloween. Countless fans around the world posted photos of themselves out and about over the weekend dressed as the singer under the hashtag #ItsASiaHalloween, and Sia herself retweeted many of them.
Another celebrity was also inspired by Sia's 2014 hit --- Ellen DeGeneres wigged out as the the hitmaker as well, and even staged a performance of "Chandelier" on her talk show. Heidi Klum even joined her as Sia's often-present music video dancing muse Maddie Ziegler. Klum herself actually once appeared in a Sia music video, for the song "Fire Meet Gasoline." You can watch the Ellen performance below.
The actual purpose of Kelly Clarkson's video was to announce that her second annual Miracle on Broadway benefit concert would be taking place in Nashville, Tennessee on December 16. Clarkson first put on the charity Christmas concert in 2014, and although it was planned to be an annual event, the singer had to cancel the 2015 show due to health problems. At the premiere concert, Clarkson sang a number of traditional Christmas songs and original Christmas songs from her 2013 holiday album Wrapped in Red. She also shared the stage with other A-list singers that owe a lot to the city of Nashville, like Reba McEntire, Meghan Trainor, Garth Brooks and Martina McBride, among others.
Your Daily Blend of Entertainment News
Your Daily Blend of Entertainment News
Thank you for signing up to CinemaBlend. You will receive a verification email shortly.
There was a problem. Please refresh the page and try again.