Kelly Ripa Opens Up About Her Bad Botox Experience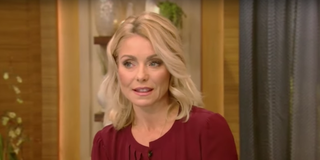 (Image credit: Live With Kelly)
Kelly Ripa did something that most celebrities would never dare to do: she opened up about a botched Botox injection. The daytime host talked about the incident on her show Live With Kelly on Wednesday morning with her guest co-host Megyn Kelly.
After Megyn Kelly revealed her "bad side" to Kelly Ripa --- that is, the side of her face that she thinks looks worse in photographs --- Ripa revealed that she recently went through a period where she felt both sides of her face weren't photogenic due to an unfortunate Botox mistake. Ripa said that the botched injections occurred about a year ago, and caused people to grow curious as to why she smiled less often.
Photographs from around the time that Kelly Ripa described show that the talk show host did tend smile less broadly or cover her mouth more often.
Thankfully, Kelly Ripa shared that she is now starting to feel like herself, and her full, beaming smile is definitely proof of that.
Kelly Ripa invited political commentator Megyn Kelly to be her cohost on Wednesday's show, which immediately followed the announcement of Tuesday's results of the presidential election. Though Kelly has a contentious past with Donald Trump, she told the audience that she is hopeful for his presidency and encouraged the country to stand behind him.
Megyn Kelly was the latest in a revolving door of guest hosts that have joined Kelly Ripa on her show since former co-host Michael Strahan left this summer after four years on the show. Check out Kelly Ripa's Botox story below, starting at around the 17-minute mark.
Your Daily Blend of Entertainment News