Watch Grandparents Finally Get Caught Up With Technology In Adorable Holiday Ad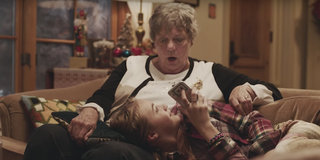 (Image credit: Xfinity commercial)
Spending some quality time with the extended family over the holidays can be a warm and rewarding experience, but for so many of the tech-obsessed younger generation, it also means having to forgo the joys of iPhones and television for a number of hours. But Xfinity is hoping to change that with a new commercial that tries to persuade luddite grandparents to set up WiFi and television services so their grand children don't dread a visit. Check out the full commercial for yourselves below.
In the heartwarming new ad, a few grandparents get visits from the ghost of Christmas future (or, I guess actually present) to help bridge the technological gap between themselves and their grandkids. First, a group of grandparents find out what their grandkids really think about visiting their WiFi-less homes through a bit of Twitter stalking. Then, it's time for Xfinity to step in and turn their comfy homes into tech-equipped abodes on par with that Disney movie Smart House (minus the malfunctioning Katey Sagal hologram). After the children realize that their grandparents' home is suddenly WiFi friendly, adorableness ensues in the form of face swaps, on-demand movies, and touching Instagram #TBT posts.
While some viewers have argued that the Xfinity commercial is wrong to enable children to bury themselves into their various devices rather than interact with family members, the ad actually makes strides to showcase the opposite of that statement. Rather than the younger generation silently playing on their phones and ignoring the people around them, Xfinity depicts the new technology as something that helps bring the family together, as the different generations interact in ways they hadn't before and share a ton of laughs.
What makes the commercial even more heartwarming is the fact that it was inspired by actual tweets, and depicts a real family and their reactions to spending time together after Xfinity hooked up the grandparents' house. The commercial's creative director told AdWeek that the angry tweets from kids about visiting the technological black hole of their grandparents' house were actually taken from Twitter, and that the family that the commercial follows is not comprised of actors.
Of course, the end product was given an extra emotional kick through editing and added music, but it's still pretty cool to think that a lot of the moments that were captured were organic. Now that's some holiday magic!
Your Daily Blend of Entertainment News