Why Kendall Jenner Deleted Her Instagram Account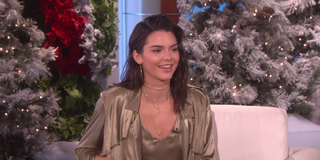 (Image credit: The Ellen DeGeneres Show)
Fear not, Kendall Jenner fans --- the model and reality star isn't gone from Instagram forever. Jenner stopped by The Ellen DeGeneres Show on Wednesday to explain why she stepped away from her popular social media presence, and ensure her former followers that she'll be back in time.
Kendall Jenner shocked her hordes of Instagram followers earlier this week when her account suddenly vanished from the site. As speculations began to run wild over why the normally social media-active model would delete the app that she most often posted to, Jenner told Ellen DeGeneres that it's nothing so severe --- she's just taking a little break to disconnect and she'll be back in a while.
And deleting her Instagram isn't the only thing Kendall Jenner has done to wean herself off her smartphone. Jenner also said that she's deleted her Twitter app from her phone (though not her account altogether), and because of that she didn't realize that major news organizations like CNN had been reporting on the fact that she's stepped away from Instagram. She went on to say that she was shocked that that fact that she deleted an app two days ago instantly became a major headline.
Check out Kendall Jenner's full explanation behind deleting Instagram below.
Though Kendall Jenner said she was surprised that people cared so much about her Instagram hiatus, she probably shouldn't be given that she runs one of the most popular accounts on the app. In fact, Jenner was the proud owner of the site's most-liked photo after she posting a pic of her hair with strands carefully placed to form heart shapes. Another reason that Jenner's exit from the site drew public attention is because her big sister Kim Kardashian recently ditched social media altogether, in a move that is very out of character for the whole Kardashian-Jenner family. After she was robbed at gunpoint in Paris in early October, Kardashian has remained notably silent on all her social media platforms.
Thankfully, it sounds like we won't be subjected to the same radio silence of Kim Kardashian's current digital presence from Kendall Jenner. So you can just relax and check back on her Instagram in a few days --- she'll probably be back with even more gorgeous photos for you to favorite.
Your Daily Blend of Entertainment News
Thank you for signing up to CinemaBlend. You will receive a verification email shortly.
There was a problem. Please refresh the page and try again.