Anthony Michael Hall Charged With Battery, Could Face Jail Time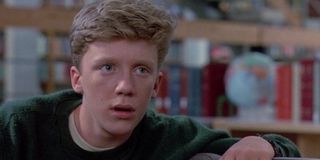 (Image credit: The Breakfast Club)
Back in the '80s, Anthony Michael Hall's most famous movie character had to deal with weekend detention in The Breakfast Club, but now Hall might be facing a much more severe type of incarceration. The actor might be going to prison for seven years due to a backyard altercation at his home a couple months back.
Anthony Michael Hall is being charged with felony battery and serious bodily injury following a brawl that he was involved in two months ago, TMZ reports. Security footage from the yard of Hall's condo shows a man identified as Hall shove his neighbor to the ground. The neighbor reportedly suffered a broken wrist and hurt back from the encounter. The charges would normally max out Hall's sentence at four years, but apparently there are special circumstances tied to the charges that could increase Hall's time behind bars to seven years if he's found guilty.
As you'll see in the video below, a man pushes another man to the ground. The victim then chases after the attacker, and it appears as though they get into a screaming match, since more neighbors then come into the yard to see what's going on. Check out the video below.
It's still not clear what caused the fight and what the special circumstances that are involved in the case are. Anthony Michael Hall hasn't popped up in headlines much in recent years, so it's hard to know if anything troubling has been going on with the actor. At the height of his fame in the '80s, Hall opened up about his alcoholism, but was able to kick his addiction and become fully sober in the '90s.
Anthony Michael Hall rose to prominence as a member of the Brat Pack in the 1980s, starring in some of the eras most beloved films like National Lampoon's Vacation and The Breakfast Club. He went on to more dramatic work in the '90s by starring in Edward Scissorhands and Six Degrees of Separation, and then began working a bit less frequently in the new millennium. Currently, Hall has a recurring role on the TNT detective series Murder in the First, and he's co-starring in two upcoming movies: the Ben Affleck-directed crime drama Live by Night and the Brad Pitt comedy War Machine.
Of course, seven years in prison could put Anthony Michael Hall's career on ice, so we'll have to see how the trial turns out. If he does have to face some jail time, maybe he'll at least meet a group of misfit prisoners that all help each other learn to love and accept themselves?
Your Daily Blend of Entertainment News
Thank you for signing up to CinemaBlend. You will receive a verification email shortly.
There was a problem. Please refresh the page and try again.