McDonald's Worker Fired For Messing With Cop's Drink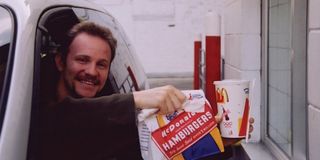 One Kansas police officer got a not-so-sweet surprise in the soda that he ordered at a McDonalds drive-through recently. The fast food working waiting on the officer added mustard into his Dr. Pepper, and is now facing the repercussions of that decision.
Public outrage targeted at the McDonalds employee began after a photo of the mustard-mixed drink that the police officer received went viral recently. A Facebook group called Kansas GOING BLUE, which describes itself as a localized effort to support law enforcement officers, posted the unappetizing photograph on Sunday, and noted in the caption that the McDonalds' manager had said that a similar incident had happened before at the Topeka location to a highway trooper.
McDonalds representatives have confirmed that the anonymous employee at the Topeka location in question has been fired following the incident, local station KSNT reports. But it doesn't just stop with the employee's termination, the District Attorney's Office is also opening a criminal investigation into the incident, which McDonalds is reportedly complying with.
This mustard incident is similar to another high-profile case of animosity between a fast food worker and a police officer that also occurred in Kansas last year. In the relatively nearby town of Newton, Kansas, a Taco Bell worker delivered a cop's order of burritos with the word "pig" written on the wrappers. That employee was also fired by the fast food franchise, but it appears not much has changed in the year since it made headlines.
Tom and Marilyn Dobski, McDonalds franchise owners in Topeka, reaffirmed to KSNT that their restaurants support law enforcement and that they were shocked to learn about the mustard debacle.
It sounds like the whole situation is being taken care of already, but it's not a terrible idea to always lift the lid of your drinks and see what's in there before you start slurping away at it --- you shouldn't have to do it, but you never really know what's going on back in those fast food kitchens. Better safe than inhaling a mouthful of mustard.
Your Daily Blend of Entertainment News