Blake Lively's Honest Reaction To Ryan Reynolds Getting His Walk Of Fame Star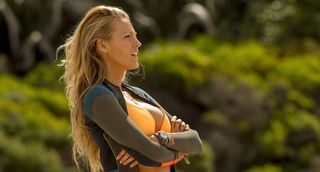 Blake Lively was overflowing with pride for her husband Ryan Reynolds on Thursday at his induction ceremony into the Hollywood Walk of Fame. After Reynolds' star was set in the illustrious walkway, Lively shared a photo of their family's feet surrounding the honor and posted a sweet message to her husband alongside it:
Check out Blake Lively's super supportive Instagram post below.
And the heartwarming sentiment was mutual between the loving couple. Ryan Reynolds took some time to dote on his wife during his speech at the induction ceremony. PEOPLE reports that Reynolds gave Blake Lively more than just a shoutout during his speech, calling her the best thing in his life and gushing about the family they started together.
Blake Lively brought along both of her and Ryan Reynolds' young daughters to see their dad's newly minted star. Their oldest daughter James just turned 2, and Lively was also carrying her newborn daughter, who is about two and a half months old and whose name has not been made public yet. The couple is famously tight-lipped when it comes to their children, opting to keep their private life as parents just that.
The Walk of Fame ceremony also happened to be the first public, family moment for Ryan Reynold and Blake Lively since the birth of their second daughter at the end of September. Obviously, they have been busy at home raising their new baby while also looking after young James, but the whole Reynolds-Lively crew was out in full-force to support the lone man of the house.
And Ryan Reynolds also got some words of encouragement from his fellow X-Men universe star Hugh Jackman. The actor cleverly got some revenge for the Deadpool gag in which Reynolds stapled Jackman's PEOPLE's Sexiest Man Alive cover to his face buy holding up a cardboard cutout of Reynolds' face and hilariously impersonating him. Check out the silly and shady clip below.
The Walk of Fame honor comes after a particularly incredible year for Ryan Reynolds, having found both immense critical and commercial success for his starring role in Deadpool. The R-rated superhero comedy broke box office records left and right when it was released on Valentine's Day weekend. Along with starring in the film, Reynolds also served as a producer. His performance not only brought in insane amounts of money, but it also earned him his first Critics' Choice Award nomination and win, as well as his first Golden Globes nomination --- we'll find out if he takes that award home in January.
But while the world is only recently beginning to celebrate Ryan Reynolds' genius, Blake Lively knew about it all along. I mean, she did meet him on the set of The Green Lantern, so I guess it's pretty much all uphill from there...