Why UCLA Hospital May Be Firing Staff Members After Kanye West's Stay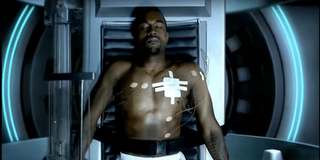 (Image credit: "Stronger" video)
Kanye West is out of the hospital, but the medical center that he stayed at is still dealing with some drama. The UCLA Medical Center that West was hospitalized in last month is now reportedly looking into staffers that may have been poking around in the famous rapper's confidential medical records.
Sources have said that the UCLA Medical Center believes a number of its employees have attempted to access Kanye West's medical records since he was admitted to the hospital last month, and that the medical center is conducting an investigation that will likely result in a number of firings, TMZ reports.
Apparently, some of the medical center workers just could not contain their curiosity when Kanye West was admitted to UCLA last month reportedly on a psychiatric hold. West's physician told the medical center that West was experiencing a temporary psychosis due to exhaustion and dehydration after he allegedly got aggressive with a member of his staff at the end of November. The episode also came a day after West cancelled the remaining 21 shows of his concert tour and delivered a particularly long rant about politics and celebrity culture instead of performing at what turned out to be his final concert of the year. Though outlets have theorized about a possible mental illness or other explanations for West's hospitalization, nothing about it has been confirmed, which is probably why those UCLA staffers were so keen on digging into his records to get the scoop on what was really going on.
Kanye West was in the hospital for 8 days before being discharged at the beginning of December. His wife Kim Kardashian flew to Los Angeles to stay at West's bedside throughout his stay, and reportedly she also encouraged the in patient therapy that West is receiving at home since leaving the medical center. Of course, Kardashian is also dealing with a highly publicized trauma of her own after she was robbed at gunpoint in Paris two and a half months ago. The normally ubiquitous reality star has remained out of the public eye since the robbery.
After Kanye West's incident, it appeared that he would be joining his wife in reclusiveness following reports that the couple had cancelled all the rest of their appearances for 2016, but that wound up not sticking for long. A few days after being discharged from the hospital, West made a huge splash in the media by having a 15-minute meeting with President-Elect Donald Trump in New York. West tweeted that the pair talked about multicultural issues, and shared a photo of Trump's "Person of the Year" issue of Time Magazine that the businessman had signed for West as a mark of their friendship.
With all this craziness going on surrounding Kanye West, it's no wonder those medical workers wanted to know what the hell was actually going on. Not that it makes it ok, obviously.
Your Daily Blend of Entertainment News
Thank you for signing up to CinemaBlend. You will receive a verification email shortly.
There was a problem. Please refresh the page and try again.