Madonna's Blunt Response To People Who Ask Why She's Still Working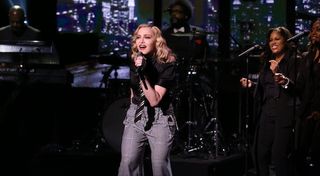 (Image credit: The Tonight Show starring Jimmy Fallon - Photo by: Andrew Lipovsky/NBC)
It's inarguable that Madonna has become a mainstay in the music world. She's released chart-topping albums and iconic songs in each of the four decades that she's been active, and reinvented herself so many times that she's moved the world of fashion forward along with her. As she's grown older, Madonna has never lost her rebellious energy, and you shouldn't expect her to be calling it quits anytime soon! In fact, the singer revealed that she despises when ask her why she hasn't retired.
In a new interview with Harper's Bazaar, Madonna laid out the inherent sexism in a question that people so often ask her: Why do you keep making music after so many years? The 58-year-old singer has 13 albums under her belt, and has clearly already made a monumental and lasting impact on our culture at large; wouldn't she want to just sit back and relax now? Not a chance. Madonna instead mused as to whether men who are successful in their artforms --- such as Steven Spielberg and Pablo Picasso --- are asked similar questions about retirement.
We hear you loud and clear, Madge --- keep on expressing yourself!
Madonna released her 13th studio album Rebel Heart in 2015, and concluded her tenth world tour in support of the record a little less than a year ago. A few months back, Madonna was named Billboard's Woman of the Year for 2016, and she also made waves for her tribute to Prince and political activism in the past year.
Though Madonna may hate being asked why she's still out there making music and influencing pop culture after already establishing herself as an icon, the singer did offer up what drives her to keep creating: inspiring her fans. Madonna said that creating art is something that comes second nature to her, and that stopping seems unfathomable to her.
And just in case you needed any more proof that Madonna is as relevant (and as flexible) as ever, check out her Carpool Karaoke appearance last month.
(Photo above courtesy of The Tonight Show Starring Jimmy Fallon on NBC)
Your Daily Blend of Entertainment News
Your Daily Blend of Entertainment News
Thank you for signing up to CinemaBlend. You will receive a verification email shortly.
There was a problem. Please refresh the page and try again.