Watch Scott Eastwood Cliff-Dive In Australia On His Day Off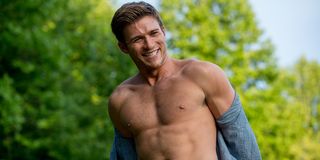 Scott Eastwood took a big leap earlier this week, and it might actually wind up getting him into some trouble. The actor filmed himself cliff-diving in Australia during a day off from filming on Monday. In the high-octane video, Eastwood holds a GoPro camera at himself as he runs off the ledge of a cliff in Royal National Park on the coast of New South Wales in Australia. As he hits the water below, Eastwood drops the camera, which continues filming from the bottom of the lagoon for several seconds before Eastwood finally retrieves it and resurfaces. Check out the video below.
It looks like Scott Eastwood had a blast with that cliff-dive, but the video he filmed might come back to bite him. TMZ is reporting that jumping from Wattamolla Falls (the waterfall shown in Eastwood's video) is illegal, and he could be dealt a fine by the authorities. The Royal National Park website does explicitly state in its safety messages that jumping from the waterfall into the lagoon is prohibited, although the site doesn't go into details about what the punishment might be.
Of course, if any sort of fine is leveled against Scott Eastwood and his cliff-jumping pal, it probably wouldn't be a huge deal for the movie star. The Daily Mail is reporting that the National Parks and Wildlife Service is reviewing Eastwood's video, and may issue him a $300 fine, which I'm sure is an amount that wouldn't even make Eastwood blink. After all, he did just star in Suicide Squad, one of the highest grossing films of 2016.
Despite what may become a minor financial hiccup, Scott Eastwood seems to be making the most of his time in Australia. The actor arrived in the country two weeks ago to begin filming Pacific Rim: Uprising, which will be the sequel to 2013's immensely popular action, sci-fi film Pacific Rim, which Eastwood did not appear in. Eastwood marked his arrival in Australia at the very beginning of the new year with an excited Instagram post of himself beneath the Australian flag.
It looks like Scott Eastwood has been finding a nice balance between working hard on the new Pacific Rim film and getting out to explore the beautiful natural settings that Australia has to offer since starting his visit. In the past few days, the actor has shared photos of himself both hard at work memorizing his lines, and other ones of himself and friends exploring the country.
But for future reference, Scott --- maybe save the action stunts for your movies, just to be safe.
Your Daily Blend of Entertainment News
Your Daily Blend of Entertainment News
Thank you for signing up to CinemaBlend. You will receive a verification email shortly.
There was a problem. Please refresh the page and try again.