Beyonce Shared More Pregnancy Photos, Check Them Out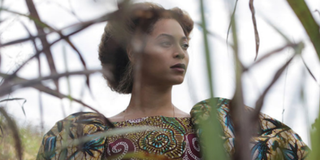 Another day, another major Beyonce surprise. After shocking the world on Wednesday by revealing she's pregnant with twins, the singer uploaded a ton of gorgeous new photos of herself and her baby belly to her website.
In a new photo album that Beyonce has entitled "I Have Three Hearts," the singer shares scores of artistically shot, intimate photographs of her pregnancy process over the past few months. The album's title is in reference to the fact that Beyonce is carrying twins, which was part of her initial pregnancy announcement on Wednesday. That first announcement was accompanied by a photo of Beyonce caressing her baby belly while wearing a veil in front of a wreath of flowers, and went on to become the most liked photo in Instagram history within a matter of hours, CNN reported.
But I guess Beyonce didn't want to leave us with just one instantly iconic photo --- the new photo series on her website features the singer posing in various settings, including more shots of her among the flowers and some utterly breathtaking underwater shots! PEOPLE shared the photos via Beyonce.com.
Interspersed between the new pregnancy pics are some older photos of Beyonce from when she was pregnant with Blue Ivy Carter, and photos through the years of her and her husband Jay Z. She also goes back further by posting some vintage pics of her grandmother and her mother when they were both pregnant.
Also among the photos are a few written pieces in which Beyonce reflects on her pregnancy. She ponders whether her mother felt the way she does now in her pregnancy, and marvels at the woman's ability to create life. The major theme that comes up in the writings are references to herself as the goddess Venus. It seems it was this goddess that inspired the original flowery photoshoot, and Beyonce continues to pay homage to the Roman goddess of love and fertility in black-and-white portraits of herself on a flower throne.
The only other person to make in appearance in Beyonce's new pregnancy photos is her daughter Blue Ivy Carter. In various photos, Blue is carrying a bouquet of roses next to her pregnant mother. In one especially cute shot, Blue kisses her mom's baby belly, showing her love for her new little siblings.
These are only a few of the scores of gorgeous photos that Beyonce has shared. Check out the rest of them on her website.
Your Daily Blend of Entertainment News