Watch Two Of Beyonce's Dancers Get Engaged On Stage During Single Ladies Performance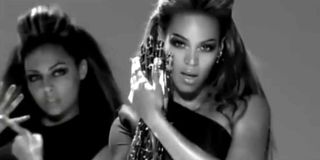 When Beyoncé sang "put a ring on it" at her sold out St. Louis, Missouri concert this Saturday, one of her backup dancers took the words to heart. Bey stopped the performance of her hit single "Single Ladies (Put a Ring on It)" midway through at the concert to welcome one of her dancers onto the stage.
As backup dancer John Silver walked out in a white blazer, Beyoncé handed him her mic, and he made his way over to fellow dancer and the Formation World Tour dance captain Ashley Everett. As Silver begins professing his love for Everett in front of the crowd, she laughs and blushes. The moment ends with Silver getting on his knee and proposing, and Everett happily accepts the ring and the two share a sweet kiss. But of course, she's still Beyoncé's dance captain, and after just a few seconds of celebrating Everett seamlessly breaks back into the "Single Ladies" choreography, though technically a single lady no more.
Ashley Everett has been dancing for Beyoncé for nearly a decade, beginning with the tour and music videos for the singer's 2006 album B'Day. In that time, Everett has become one of the most recognized dancers to work with the singer, appearing in nearly 20 of her music videos and serving as the dance captain on all of her recent tours. Fittingly, she was one of the two backup dancers to appear in Beyoncé's stripped down, choreo-focused "Single Ladies" music video. As you probably remember, Kanye West was a huge fan of that video.
For his part, John Silver is a dancer and choreographer originally from St. Louis, who has worked with Beyoncé, Nicki Minaj, Jennifer Lopez, and more stars. Silver even appeared with Beyoncé on the big screen, with a small part as a dancer in the 2006 film adaptation of Dreamgirls, which starred Beyoncé as singer Deena Jones.
The Saturday concert in St. Louis began the final leg of Beyoncé's Formation World Tour, which began in April and is scheduled to conclude in early October in New Jersey. The tour follows the surprise release of the singer's celebrated visual album Lemonade, which she recently performed a bulk of live at MTV's Video Music Awards, along with earning the Video of the Year Award for lead single "Formation."
Check out Ashley Everett and Beyoncé showing off their killer moves in the "Single Ladies" music video below.
Your Daily Blend of Entertainment News
Your Daily Blend of Entertainment News
Thank you for signing up to CinemaBlend. You will receive a verification email shortly.
There was a problem. Please refresh the page and try again.