Someone Recreated Smash Mouth's All Star Using Windows XP Noises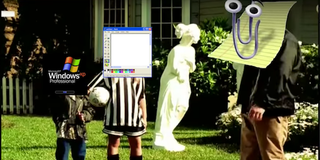 If there were two sounds that could most completely encapsulate the turn of the century, I feel pretty confident that they would be all those Windows computer error noises and the ubiquitous pop-rock anthem "All Star" by Smash Mouth. And now, thanks to one YouTuber, the aural goodness of the late '90s has been perfectly distilled in one video. Check it out for yourself below.
YouTube user James Nielssen brought the millennials back to their childhood in a big way last week when he uploaded a version of "All Star" using only sounds from a Windows XP desktop. That's right --- those pop-up error messages, the loading sounds, even that built-in pinball game that ruled grade school computer class; they all come together to pay bizarre but impressive tribute to Smash Mouth. Oh, and of course Clippy, the annoying but lovable (or is he just annoying) Windows mascot takes the lead role in the video.
Now I'm sure you can see why the video went viral. It has already garnered nearly 800,000 plays since it was posted six days ago, and it looks like it will just keep getting more. It even caught the attention of Smash Mouth themselves. The band's Twitter account retweeted a link to the video, and gave their stamp of approval, writing "It works!"
Although it isn't exactly news that the Internet has a special place in its heart for Smash Mouth. The band and their hit single "All Star" in particular have become something of a meme among sectors of the Internet, rising to viral joke celebrity alongside the Shrek movies, which featured a number of Smash Mouth songs on their soundtracks. In fact, a large portion of James Nielssen's YouTube channel is devoted to strange "All Star" remixes, the most popular of which are focused on lead singer Steve Harwell's unique enunciation of the word "somebody." Unsurprisingly, his other popular uploads include ridiculous homages to Shrek and to the latest movie-turned-Internet-meme, Jerry Seinfeld's Bee Movie.
So the next time you find yourself missing the days of frosted tips, Surge, and bucket hats, you know just the video to start playing.
Your Daily Blend of Entertainment News
Your Daily Blend of Entertainment News
Thank you for signing up to CinemaBlend. You will receive a verification email shortly.
There was a problem. Please refresh the page and try again.