YouTube Temporarily Banned A Giraffe Live Stream For Being Sexually Explicit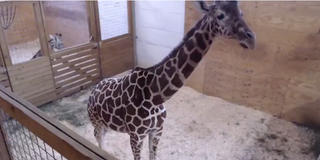 (Image credit: YouTube)
A lot of people are angry about a lot of stuff right now, but one of the strangest controversies is centered on a pregnant giraffe named April. The zoo where April lives, Animal Adventure Park in Harpursville, New York, has been providing live-streaming video of the giraffe as she prepares to give birth, but recently YouTube removed the video.
Though the live-stream had already been going on for a couple weeks, animal rights activists and extremists had the video removed from YouTube last Thursday by reporting that it violated the site's guidelines on nudity and sexual content, CBS News reported. Since April still has yet to give birth, the live-stream has really just been a video of a giraffe walking around in her pen so far, which is obviously in no way sexual or in violation of any nudity clause --- I mean, yeah she's not wearing clothes, but she's a giraffe, sooo......
A zookeeper at the Animal Adventure Park addressed the live-stream's removal in a Facebook Live video a couple hours after the take-down. He informed viewers that the zoo is not pleased that their educational video was taken down, and blamed "a handful of extremists" for reporting it as being sexually explicit.
You can watch the full response the zoo had to the video take-down below.
The removal of April's live-stream came abruptly after it had received viral status online, reportedly receiving over 20 million views. Luckily for April's viewers, YouTube quickly remedied the error and the live-stream is officially up and running again. And yes, at the time of publishing this piece on Monday evening, April is still not given birth, and is expected to deliver at any minute.
The calf that April is currently carrying will be her fourth, and she is expected to weigh about 150 pounds and be about 6 feet tall at the time of birth. A normal gestation period for a giraffe is 15 months, which April has just passed, thus the any-minute-now expectancy of her birth that has attracted millions of viewers to stay glued to the live-feed. You can check out the live streaming video of April below --- who knows, maybe you'll tune in right in time!
Your Daily Blend of Entertainment News
Thank you for signing up to CinemaBlend. You will receive a verification email shortly.
There was a problem. Please refresh the page and try again.