Gloria Steinem's Blunt Response To Whether Emma Watson's Activism Will Annoy Fans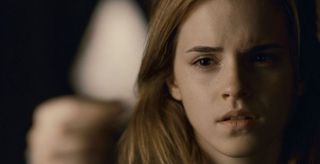 Emma Watson has become one of the most vocal and active champions for gender equality in Hollywood, but could her tireless activism becoming grating to the general public? According to Gloria Steinem, the fact that a question like that is even brought up illustrates one of the biggest misconceptions that people nowadays seem to have with feminism: that a woman can't stand up for gender equality and also have a capacity for levity and fun.
In Vanity Fair's new cover story on Emma Watson, Gloria Steinem stands up for the actress's involvement in feminist and environmental causes. The author of the piece questions Steinem on whether Watson's intense focus on her activist efforts has a risk of becoming annoying to the public, and Steinem rebuts by noting how that question in and of itself carries a gender bias.
Indeed, there are plenty of male actors who have become well-known for their activist efforts that have not had to face any public backlash for being considered "too annoying" by championing their efforts. Leonardo DiCaprio has devoted much of his time to speaking about environmental concerns, even addressing the United Nations on the topic, as Emma Watson has done for her gender equality cause HeForShe. Additionally, superstars like Bono and Sean Penn have become almost more famous and beloved for their hands-on work in global aid than for their music or acting.
Gloria Steinem also points out the misconception that is at the core of that question: that feminists can only be serious, and never be fun. Steinem, who has gotten to know Emma Watson well over the last few years, says that Watson is as joyful and fun-loving as anyone else, but she is also informed on these issues and feels that it is important to speak about them.
Emma Watson has been using her high-profile position as one of the most well-known actresses in the world to help educate others on gender equality for the past few years. In 2014, she was appointed as a United Nations Women Goodwill Ambassador, and launched her HeForShe campaign, which aimed to better inform men that feminism is about equal opportunities for both genders, rather than "man-hating." At the beginning of 2016, Watson launched her online feminist book club Our Shared Shelf, and selected Gloria Steinem's memoir as her first book. The two people that Watson brought with her to get a first look at her upcoming Beauty and the Beast remake were her mother, and Steinem, hoping to get the feminist icon's seal of approval on her interpretation of the Disney princess. And Steinem approved.
Your Daily Blend of Entertainment News
Thank you for signing up to CinemaBlend. You will receive a verification email shortly.
There was a problem. Please refresh the page and try again.