What Faith Hill Regrets About Her Career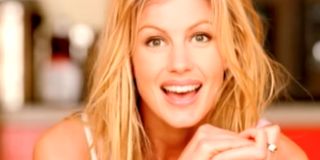 Compared to the ever-evolving styles of some artists, Faith Hill's beauty and fashion choices have remained relatively consistent since her first album debuted in 1993. However, she did make a few unusual choices on her way to selling more than 30 million albums worldwide. But don't take our word for it. The country music superstar herself gives a mixed review to the catalogue of looks she chose in the past, especially in the beginning of her career.
Faith Hill began a recent interview with New Beauty by discussing her excitement over getting to tour with her husband, Tim McGraw, this year. The country music artists last toured together in 2007, so Hill is over the moon to hit the road together again. But the interview got a little bit personal when Hill began discussing her perspective on regrettable style decisions she made in the past.
It's refreshing to know that someone as mega-famous as Faith Hill can have a bad hair day from time to time. But it was the '80s and '90s. She gets a pass as long as we can have one, too. Besides, she has never deviated too much from that gorgeously long blonde face-framing hair. It's true that she has cut it all off a few times, like with that short hairstyle in the "This Kiss" music video that launched the pixie cuts of millions of women across America in 1998.
With all of the talk about style regrets, it might seem like Faith Hill puts a huge emphasis on beauty. However, it turns out Hill is firm about instilling a different kind of confidence in her three daughters: Gracie (19), Maggie (18), and Audrey (15). She encourages her children not to focus too much on looks. Hill explained that her daughters would notice if their mom paid too much attention to the mirror, so instead, she tries to lead by example and make choices that promote a healthy, realistic idea of what it means to be beautiful.
We truly love all of these messages about inner beauty. But we want more specifics! For example, despite revealing her feelings toward some of the former looks she regrets, Hill makes zero mention of that ultra crimped hair in the music video for "Where Are You Christmas" from the soundtrack of How the Grinch Stole Christmas. There must be a story there. And what about all of those costumes in "The Way You Love Me"? We still think that video is fun, but we wonder how she feels when she looks back on moments like that one.
In the early 2000s, Faith Hill received a lot of comparisons to Shania Twain, Celine Dion, and even Britney Spears---each of whom made some questionable style choices of their own back then. But it was a special era, and we think Faith Hill managed to keep things elegant and timeless. What do you think? Does Faith Hill have anything to regret about the things she wore in the past?
Your Daily Blend of Entertainment News