Don't Expect Kids From John Cena And Nikki Bella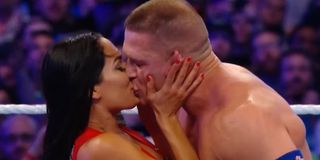 First comes love. Then comes marriage. Then professional wrestlers John Cena, 39, and Nikki Bella, 33, will be happy to stop there. The WWE stars became engaged earlier this week on WrestleMania when 16-time WWE champion Cena proposed to Bella after a well-documented courtship that served as a plot thread on WrestleMania as well as the two E! docuseries Total Divas and Total Bellas. It has been mere days since John Cena placed a gorgeous round-cut diamond with a channel-set band on his girlfriend's finger, yet the newly engaged couple is already fielding questions about their thoughts on having children. Here is what Bella had to say in response:
Nikki Bella revealed the news to TMZ, but she and John Cena could very well change their minds. Both stars certainly know better than to say too much too soon in Hollywood. Keep your cards close to the chest to keep the fans guessing. The wrestlers probably want to enjoy their brand-new engagement for a while before they even begin planning the wedding. Bella said she and Cena have no wedding dates or plans scheduled because she long ago gave up on the idea of marriage as an option for them. However, Bella did indicate that she hopes to get married within a year of the proposal, and she wants the moment to be as real as possible. (In other words, it might not be televised.)
In the past, John Cena told the press that marriage was not for him. However, after becoming engaged to Nikki Bella, he explained that he decided marriage was for him after he met the right person. So, who knows if he and his right person, Bella, will hold fast to their present decision not to have children. If they decide to stay a twosome, they will not be the only couple in history to do so. In fact, plenty of celebrities do not have kids, and some of those celebrities are in great, long-lasting relationships. If Cena and Bella do choose not to have kids, they will be in good company with big names like Chelsea Handler, Jon Hamm, Oprah Winfrey, as well as Stedman Graham, and Cameron Diaz.
On the other hand, if Nikki Bella and John Cena change their minds, we would love to watch them become parents. We could totally see them documenting their journey to parenthood and their experiences with little ones running around. Can you imagine the rough-and-tumble antics the kids of two wrestlers would get up to on a show like that? Regardless, we wish the newly engaged couple a future filled with happiness with or without kids.
Your Daily Blend of Entertainment News
Your Daily Blend of Entertainment News
Thank you for signing up to CinemaBlend. You will receive a verification email shortly.
There was a problem. Please refresh the page and try again.