How Much Janet Jackson May Actually Make In Her Divorce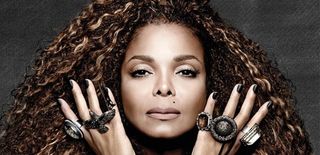 The celebrity gossip world is buzzing with news that superstar Janet Jackson split from her billionaire husband, Wissam Al Mana. The news comes mere months after the birth of their son, Eissa (which is pronounced eye-sa and translates to "Jesus" in Arabic). If the powerhouse pair makes the split official, the divorce will mark the first for al Mana and the third for Jackson. But don't say "poor Janet" just yet. The news is that Jackson could stand to obtain upwards of $200 million based on the stipulations of a prenuptial agreement.
A report from Page Six indicates that the couple's prenuptial agreement made Janet Jackson entitled to $100 million if her marriage to Wissam Al Mana ended anytime after their fifth wedding anniversary. Plus, the document supposedly stipulated that the amount would double if the marriage resulted in the birth of a child. Now we know for sure that Janet has met at least the latter of those two obligations, as her wedding date is currently ambiguous.
The exact date of Jackson and Al Mana's marriage is unclear, as the two wed in a private ceremony sometime in 2012 and announced their marriage in 2013. So the split is either timely or timed horribly, but sources seem pretty confident that Janet Jackson will walk away from the relationship richer than ever.
Of course, Janet Jackson shocked the world last year with the news that she had to cancel her ironically-named Unbreakable World Tour because she had become pregnant at the age of 50 and wanted to focus on starting a family with her husband. Jackson reportedly had a pregnancy free of undue stress and then gave birth to Eissa this January, which means she is certainly entitled to at least some monetary amount, likely in the millions.
For Wissam Al Mana, $200 million would not be a drop in the bucket, but it sounds like the billionaire would manage. Al Mana made his billions as the executive director of a conglomerate based in Qatar that has holdings in everything from cars to real estate to beauty products and luxury goods. He owns a robust portfolio of investments in high-end fashion brands, such as Hermès, Giorgio Armani, and Balenciaga, and he has a collection of investments in food and beverage companies, such as Haagen-Dazs and McDonald's, throughout the Persian Gulf. Therefore, Al Mana would most likely bounce back from writing that multimillion-dollar check paid to the order of Janet, Miss Jackson if you're nasty.
At the same time, Janet Jackson allegedly has a net worth that is a fraction of her husband's, but it isn't like she would be in trouble if that $200 million sum didn't come through for her. Besides, sources close to Jackson say the money in no way motivated the split. The rumor mill indicates Jackson may have felt stifled by her husband, and she wants to get back to her work as Janet Jackson, superstar singer and actress. Now there are questions about where she might go next, and some people have said she is eyeing real estate in London, where her mother Katherine Jackson is staying at the moment.
We'll have to see how everything plays out, but now that there is a child involved, we hope for his sake that everyone will play fair. We wish everyone a healthy and painless move forward in whatever direction that may be. Of course, we'll be here to update you with details as the story progresses.
Your Daily Blend of Entertainment News